White powder sent to Manhattan DA investigating Trump deemed non-hazardous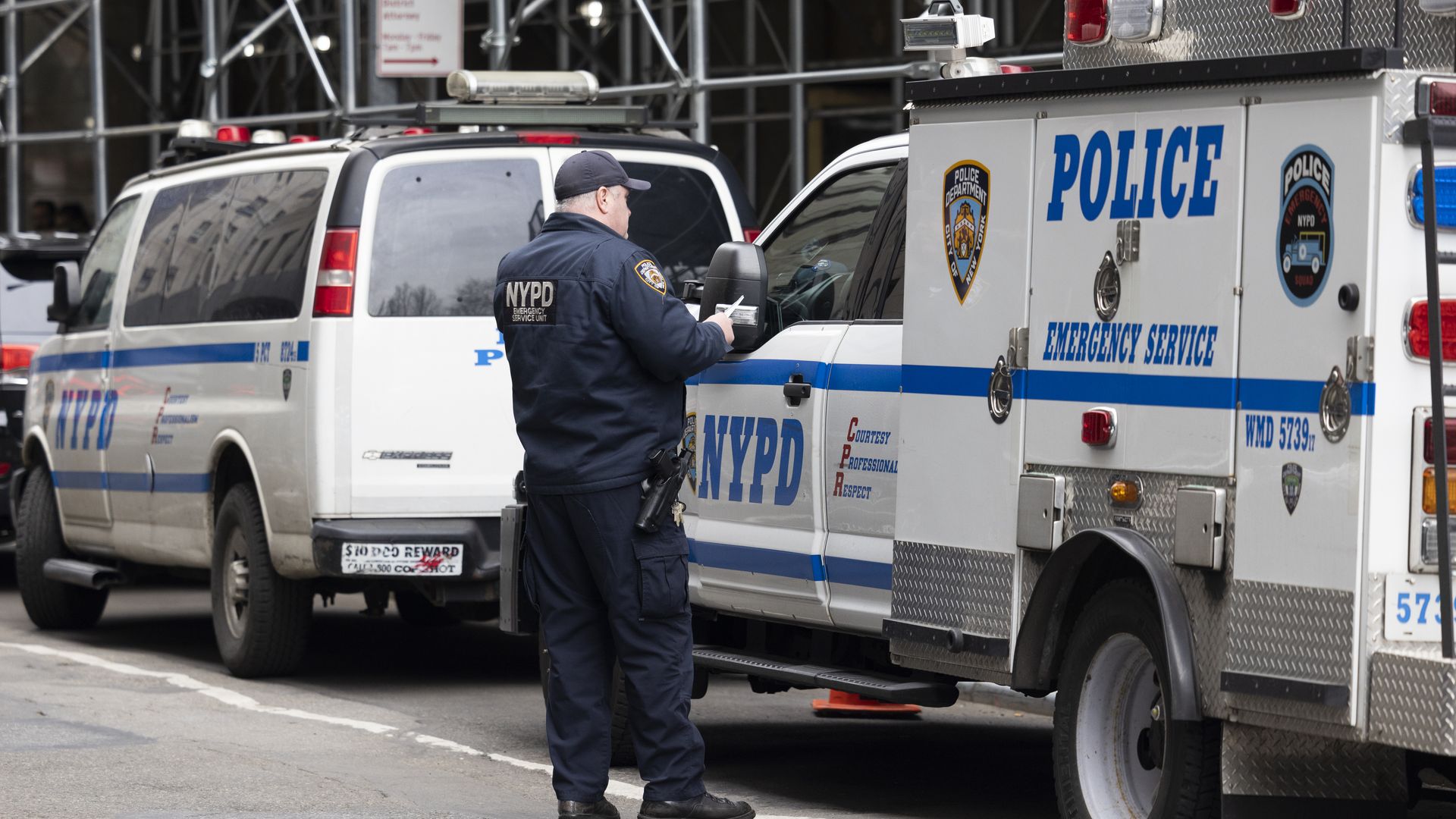 NYPID officer outside the office of Manhattan District Attorney Alvin Bragg. Photo: Angus Mordant/Bloomberg via Getty Images
A letter containing white powder sent Friday to the office of the Manhattan district attorney weighing charges against former President Trump contained no "dangerous substance" inside, according to multiple reports.
Driving the news: A spokesman for Manhattan District Attorney Alvin Bragg said in a statement to Politico and CNBC that the material "was immediately contained" and that law officials in New York " determined there was no dangerous substance."
The NYPD Emergency Service Unit and the NYC Department of Environmental Protection both investigated the substance, the statement from the district attorney's office said.
According to CNBC, the NYPD considered the envelope to be non-hazardous.
"We are aware of the incident. It's under active investigation," the NYPD said in a statement to Axios. "The NYPD takes all such threats seriously."
Bragg's office did not immediately respond to Axios' request for comment.
Context: Bragg on Friday was threatened with assassination in a letter containing a white powder, Axios' Sophia Cai reports.
Per NBC News, the letter had a typewritten note reading, "ALVIN: I AM GOING TO KILL YOU!!!!!!!!!!!!!"″
The incident happened after Trump called for protests and warned of violence in a Truth Social post, saying "Our country is being destroyed, as they tell us to be peaceful!"
Trump also called Bragg — who is considering issuing charges against Trump over alleged hush money paid to an adult film star — an "animal" who "doesn't care about right or wrong."
Worth noting: Law enforcement officials said the office has received hundreds of threats in recent weeks over the investigation into Trump, per CNBC. Bragg was specifically threatened with direct harm, an official said.
Go deeper: Trump's anger over N.Y. case challenges campaign
Source: Read Full Article