'What are we doing?!': Senator furious on floor over elementary school shooting
New York (CNN Business)A version of this article first appeared in the "Reliable Sources" newsletter. You can sign up for free right here.
"Mass shootings have become America's copy and paste tragedy," Politico's Tyler Weyant wrote Tuesday evening. "We change the place, the town, the number of dead and injured. But the constant is lives lost, people who cannot be brought back, and the nation is left in a numb daze."
At least, until, it happens again. In this case, it only took 10 days from the last slaughter for another spasm of senseless violence and terror to force the nation to go through the motions once again.
It's all so predictable and formulaic at this point. First come the initial reports of a shooting, then details about fatalities and injuries, then details about the shooter and motive, and finally the tributes to the dead. All the while, there are widespread calls for the US to take some — any — action to stop these regular massacres from occurring while Fox personalities and GOP leaders insist the shooting shouldn't be "politicized."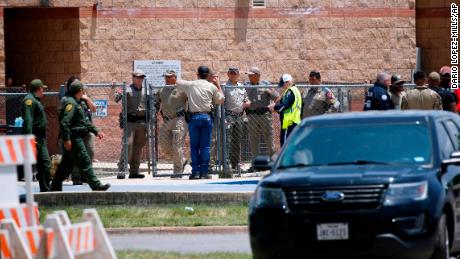 "We perform this same skit every time," pediatrician and Democratic congressional candidate Dr. Annie Andrews tweeted. "You say your thing. I say my thing. A few more people join the movement. It's not working."
I realize that, at this point, even pointing out the fact that we are stuck in this endless loop is cliche. But I can't think of anything new or unique to say — and I honestly haven't seen a single original point made in the past few hours. Years and years of these horrific acts have collectively drained us of any groundbreaking observations. Everything is just recycled. Recycled from the last shooting and the shooting before that.
"Make no mistake about it, nothing is done, and nothing is ever done," Don Lemon said on CNN Tuesday night. "And we're going to be back here. Grieving again, over another town."
"This," Lemon added, "is where we are right now."
Stelter's counterpoint
BRIAN STELTER WRITES:
I wish people would stop saying "there are no words." There are so many words. Inhuman. Grotesque. Shameful.
I worry that rote news coverage and cliche reactions may unintentionally sanitize this sickening violence.
I wonder if words can slice through the cliches. Words like "destroy." Heavy weaponry doesn't just wound victims. These weapons destroy bodies. Local reporters on the scene say that family members are being asked to provide DNA samples to help identify the kids. "The agonized screams of family members are audible from the parking lot," Niki Griswold of the Austin American-Statesman reported.
I want everyone to know that reality. I want answers to questions that are painful even to ask. What were the victims at Robb Elementary doing in the final peaceful minutes of their lives? What were they thinking when they heard loud noises down the hall? Did they recognize the sounds as gunshots? Did they fear for their lives? Did they cry out for their moms? For their dads? What did they feel in those final seconds?
There are plenty of words. We just have to use them.
"It's almost like an instant replay of Sandy Hook"
"While watching the death toll rise" in Uvalde, "one father of a Sandy Hook victim felt defeated," NYT reporter Elizabeth Williamson wrote Tuesday night. She spoke with Neil Heslin, whose son Jesse Lewis, 6, was killed in 2012, and who said he "felt compelled" to watch the news coverage. "It's almost like an instant replay of Sandy Hook," he told Williamson. "That replay, he predicted, would include a revived debate over gun legislation…"
Further reading
— Author James Fallows wrote a new blog post about "the empty rituals of a gun massacre," drawing on his previous posts throughout the years.
— NBC's Brandy Zadrozny: "I know I'm a reporter and so I'm not supposed to express opinions when babies are mass murdered … but what do we do? Who's doing the work? How do we stop this?"
— Politico's Sam Stein: "Sorry, but this tragedy isn't 'unimaginable.' We saw ten people killed at a grocery store last week! We saw an elementary school shot up with 20 kids dead less than ten years ago. It's very much imaginable now…"
— PBS's Lisa Desjardins described texting with members of Congress, struggling "to hold back the feeling that I want to vomit, sob or wake up from this news. Their texts back showing similar feelings, reactions."
— A viral speech: Sen. Chris Murphy's passionate address on the Senate floor "was viewed hundreds of thousands of times on social media," per the NYT "What are we doing?" he asked his colleagues. "Why are you here if not to solve a problem as existential as this?"
— Novelist Min Jin Lee: "Our bodies are not designed to absorb and process this much violence, loss, and grief."
— Liberal podcaster Jon Favreau: "I didn't think it was possible to feel more sickened or enraged by school shootings, and then I became a parent. What an unimaginable nightmare."
— Conservative commentator Alyssa Farah Griffin: "It's a horrible, uniquely American epidemic. What's the answer? Is there anything both sides can come together around? It's not enough to just explain why each horrendous case is slightly different & therefore action isn't justified."
Local coverage from San Antonio
BRIAN STELTER WRITES:
The San Antonio Express-News, the daily newspaper closest to Uvalde, led with the fact that this is "one of the deadliest school shootings in modern U.S. history." The story is full of local details: "It was also an award day at Robb Elementary," since the end of the school year was coming up.
The paper also noted that this is "the second mass shooting in less than five years in the San Antonio area. In November 2017, a gunman armed with an assault-style rifle killed 26 parishioners at the First Baptist Church of Sutherland Springs, about 35 miles southeast of San Antonio…"
On board Air Force One
President Biden learned of the school shooting while flying back from Asia aboard Air Force One. Pool reporters on the plane were without WiFi and unaware of the news until press secretary Karine Jean-Pierre came back to the press cabin and said Biden would be speaking at the WH upon landing. Reporters turned on the in-flight TVs to see CNN's live coverage. Per CNN's MJ Lee, "a decision was made to make a 'wire call' — a rare phone call using the phone in the press cabin to alert the wires and news organizations of breaking news. While much of the news we were being told in the air had already been shared on the ground, reporters agreed — given the gravity of the news — upon a joint statement that would be read and disseminated to wires and news networks."
All the major networks showed Biden's prime time address live. He asked: "Where in God's name is our backbone?"
Right-wing media immediately calls for more guns
The conversation in right-wing media immediately turned to calling for armed guards to protect schools. In other words, more guns. Pundits and personalities on Fox repeatedly suggested that funding allocated to schools to protect against Covid should be spent on security personnel. Meanwhile, personalities attacked those who called for gun control measures. After Biden did so in his address to the nation, Tucker Carlson attacked him in the most vicious terms. "The President of the United States, frail, confused, bitterly partisan, desecrating the memory of recently murdered children with tired talking points of the Democratic Party," Carlson said, "dividing the country in a moment of deep pain…"
TV notes and quotes
— CNN will remain live all night and through the morning, with some anchors on the scene in Texas…
— Fox News preempted the 11pm comedy show "Gutfeld" for additional live coverage of the massacre…
— Savannah Guthrie will co-anchor Wednesday's "Today" from Uvalde. Other NBC and MSNBC anchors en route to Texas include Lester Holt, Tom Llamas, José Díaz-Balart, and Ali Velshi…
— Tony Dokoupil will co-anchor "CBS Mornings" from Uvalde…
— The season finale of "FBI" was pulled by CBS "given that it involves the team preventing a school shooting," Deadline reports…
— Speaking of CBS, James Corden said on Tuesday's "Late Late Show" that "this doesn't reflect the country that I think America is. The America I've always admired…"
"It only gets worse"
WaPo reporter John Woodrow Cox, author of "Children Under Fire," said he has been writing "almost exclusively about this subject — children who are shot to death or who survive and are forever broken — for more than five years." He said "this feeling of horror, of helplessness, of nausea, of whatever the hell it is — it only gets worse after each day like this day."
He pointed out on Twitter that "more than 300,000 students in K-12 schools have experienced gun violence on their campuses since Columbine." That's the sort of perspective that needs to be infused into the news coverage this week…
>> More big picture context: "'Active shooter' incidents jumped more than 50% last year, FBI report finds…"
Source: Read Full Article