Virginia man sentenced to 4 years in prison for assaulting police during Capitol riot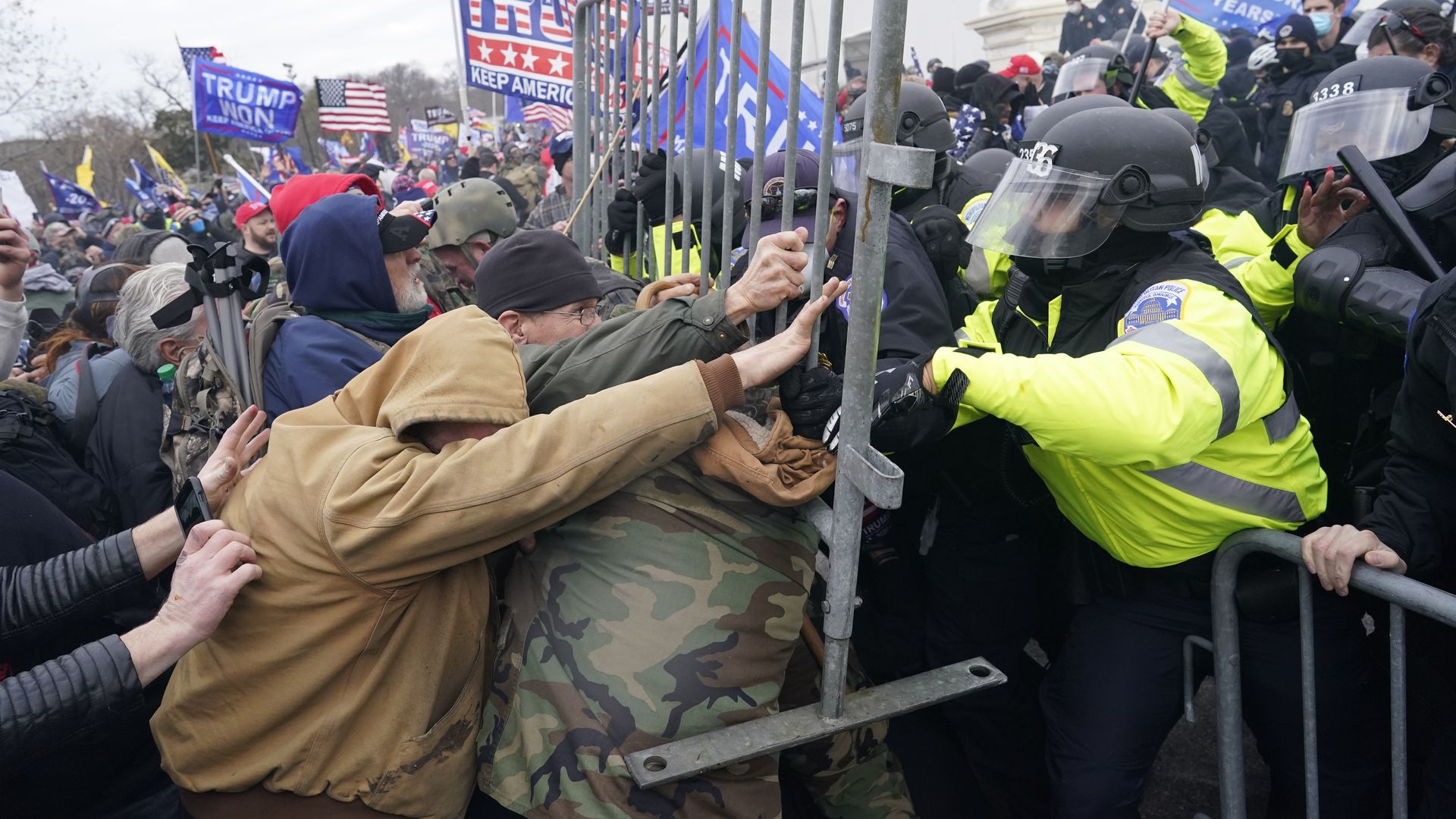 Protesters gather on Jan. 6, 2021, in Washington, DC. Photo: Kent Nishimura / Los Angeles Times via Getty Images
A Virginia man was sentenced to 52 months in prison Tuesday after striking officers during the U.S. Capitol riot, the Department of Justice announced.
Driving the news: Geoffrey William Sills, 31, of Mechanicsville was found guilty following a bench trial in August 2022 of obstruction of an official proceeding; assaulting, resisting, or impeding officers with a dangerous weapon; and robbery.
Zoom in: During the insurrection, Sills partook in violence in the tunnel area leading to the entrance of the Capitol, according to court documents.
Wearing black goggles and a black gas mask, prosecutors said he joined a line of rioters that pushed police officers back.
Sills threw several "pole-like objects" at officers as they retreated, while filming the events and posting them to social media, per the DOJ.
Prosecutors said he also wrested away a police baton from an officer and pointed a flashing strobe light at the police line, disorienting officers.
Sills struck at several officers with the baton, hitting at least two of them, per the department.
Background: Sills was arrested and charged in June 2021, and has been behind bars since then.
He was indicted with eight other defendants, five of whom have been convicted and three of whom are awaiting trial, per the DOJ.
What's next: Sills was also ordered to pay $2,000 restitution and serve 36 months of supervised release.
The big picture: Some 1,000 individuals have been arrested in nearly all 50 states for crimes related to the breach of the U.S. Capitol, per the DOJ.
These include over 320 people who were charged with assaulting or impeding law enforcement.
Source: Read Full Article