U.S. arrests Pentagon suspected document leaker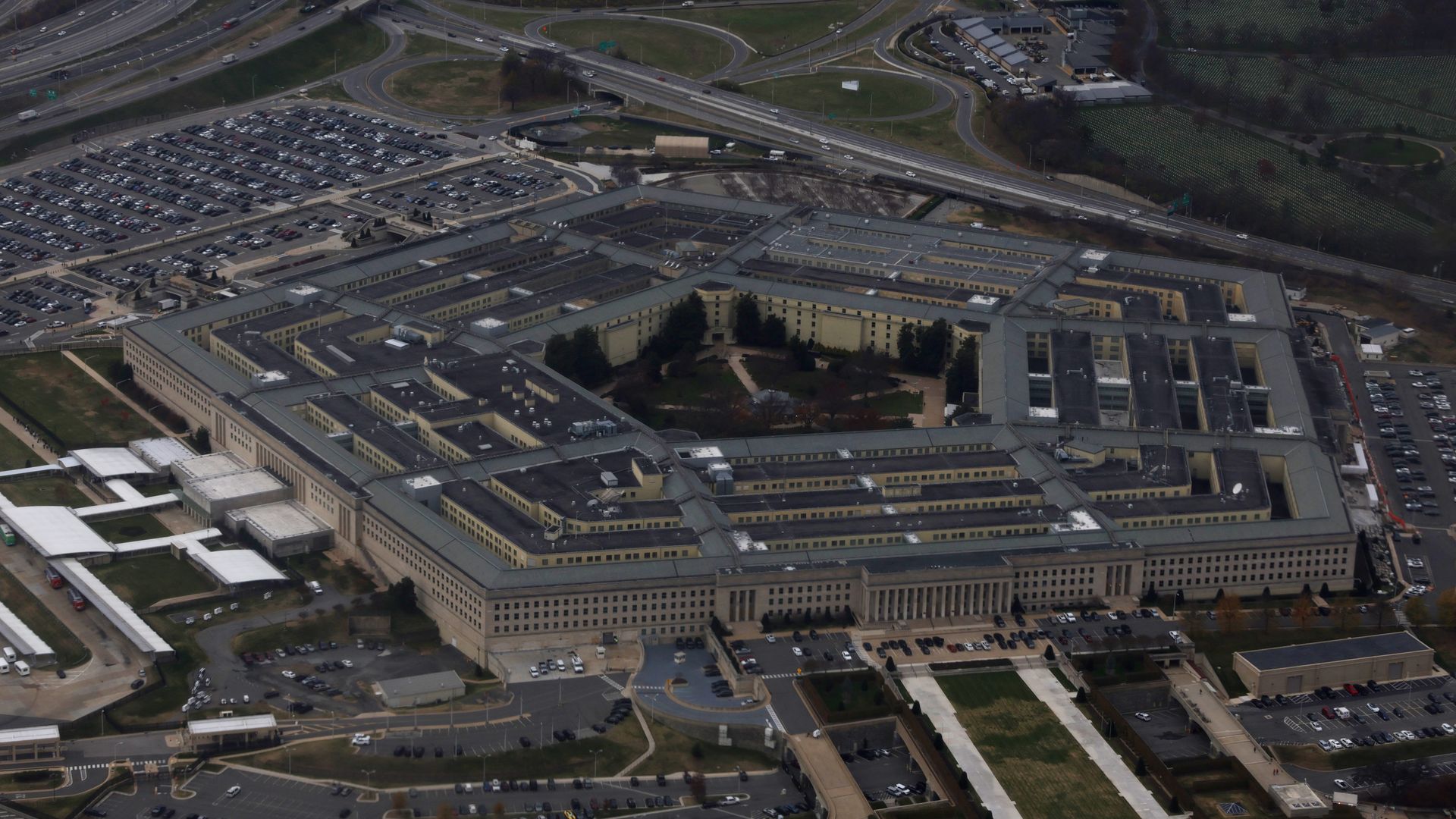 Aerial view of the Pentagon. Photo: Alex Wong/Getty Images
The FBI has arrested the suspected leaker of a trove of classified Pentagon documents, identified as a 21-year-old member of the Massachusetts Air National Guard, Attorney General Merrick Garland confirmed Thursday.
Why it matters: The leaked documents contained wide-ranging revelations about the U.S.' knowledge of Russian government intelligence and its efforts to spy on several close allies.
The leak sparked a Justice Department investigation as the U.S. seeks to verify the validity of the documents.
The big picture: The airman was identified as Jack Teixeira.
Teixeira was arrested in connection to "unauthorized removal, retention and transmission of classified national defense information," Garland said.
He was arrested "without incident," Garland added.
The FBI said in a statement that the arrest occurred at a residence in North Dighton, Massachusetts.
"Since late last week the FBI has aggressively pursued investigative leads and today's arrest exemplifies our continued commitment to identifying, pursuing, and holding accountable those who betray our country's trust and put our national security at risk."
The FBI has been conducting interviews in recent days after narrowing down a list of suspects, CNN reported.
President Biden vowed earlier Thursday that the U.S. was "getting close" to finding answers in its investigation.
Biden said while he was concerned the leak had taken place, but he was reassured that the contents had "nothing contemporaneous that I'm aware of that is of great consequence."
Pentagon press secretary Brig. Gen. Pat Ryder said during a news conference Thursday afternoon they were "continuing to assess the scope and the impact" of the leak.
Ryder described the leak as a "deliberate criminal act."
State of play: The revelation of the leaker's identity comes after the Washington Post reported Wednesday that the leaker was a "young, charismatic gun enthusiast" who began sharing the documents with acquaintances in a private chat room on the platform Discord.
He reportedly told the roughly two dozen chat group members — mostly men and boys — that he worked on a military base where he spent part of his day inside a "secure facility that prohibited cellphones and other electronic devices."
One member said that the leaker claimed he spent hours annotating classified documents to share with the group, the Post reported.
Editor's note: This story has been updated with additional details.
Source: Read Full Article