Trump And Putin Won't Hold U.S. Summit Until Next Year, White House Says
The White House said it is pushing back a second planned meeting between President Donald Trump and Russian President Vladimir Putin, citing a so-called "Russia witch hunt" as a reason for the setback.
"The President believes that the next bilateral meeting with President Putin should take place after the Russia witch hunt is over, so we've agreed that it will be after the first of the year," national security adviser John Bolton said in a statement.
That announcement comes less than a week after White House press secretary Sarah Huckabee Sanders said Trump planned to invite Putin to the White House sometime this fall. That announcement followed the first summit the two world leaders held in Helsinki.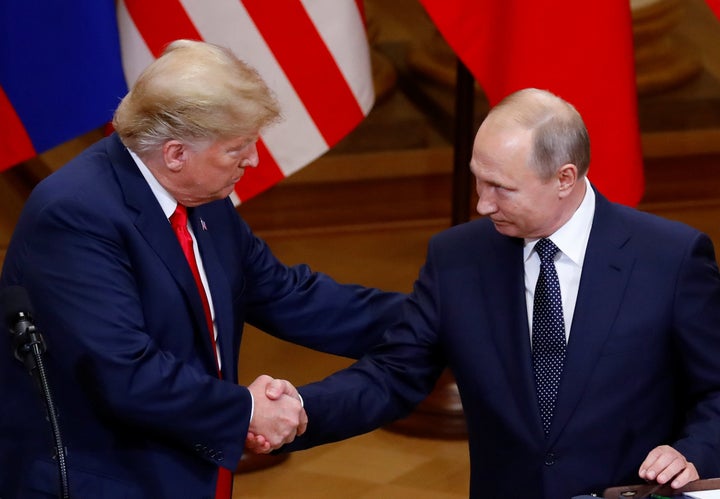 The Kremlin had dragged its feet on accepting Trump's invitation to attend a summit in Washington this year.
Kremlin aide Yuri Ushakov suggested the two men meet at another international event instead, Reuters reported on Tuesday.
"There are other options [to meet] which our leaders can look at," Ushakov told reporters, suggesting a meeting during a gathering of G-20 leaders in Argentina that starts at the end of November. "Maybe there will be other international events which Trump and Putin will take part in."
Trump has repeatedly called a federal investigation into Russia's interference in the 2016 U.S. presidential election a "witch hunt." During a press conference in Helsinki with Putin, Trump said both countries are to blame for their poor relationship and that he has reason to believe Putin's claims of innocence regarding the election.
Trump later walked back his own words, insisting he meant to say he didn't see any reason why it "wouldn't" be Russia interfering, as opposed to his statement at that press conference that he didn't see any reason it would be Russia.
Trump lawyer Rudy Giuliani has said that by September he expects special counsel Robert Mueller to conclude the portion of his investigation examining the president's potential obstruction. It's not clear whether this is or ever was the case, or what other portions of the probe may be finalized by then as well. 
This story has been updated with more background information.
Kremlin Won't Say Whether Putin Will Accept Trump's Invite To U.S.
Donald Trump Says Second Putin Summit Is In The Works
Nikki Haley: 'We Don't Trust Russia, We Don't Trust Putin'
Trump Refuses To Condemn Putin Over Russian Election Hacking: 'We're All To Blame' For Poor Relations
8 Things You Need To Know From The Trump-Putin Presser
Source: Read Full Article