Schumer declares House GOP's first major bill "dead on arrival"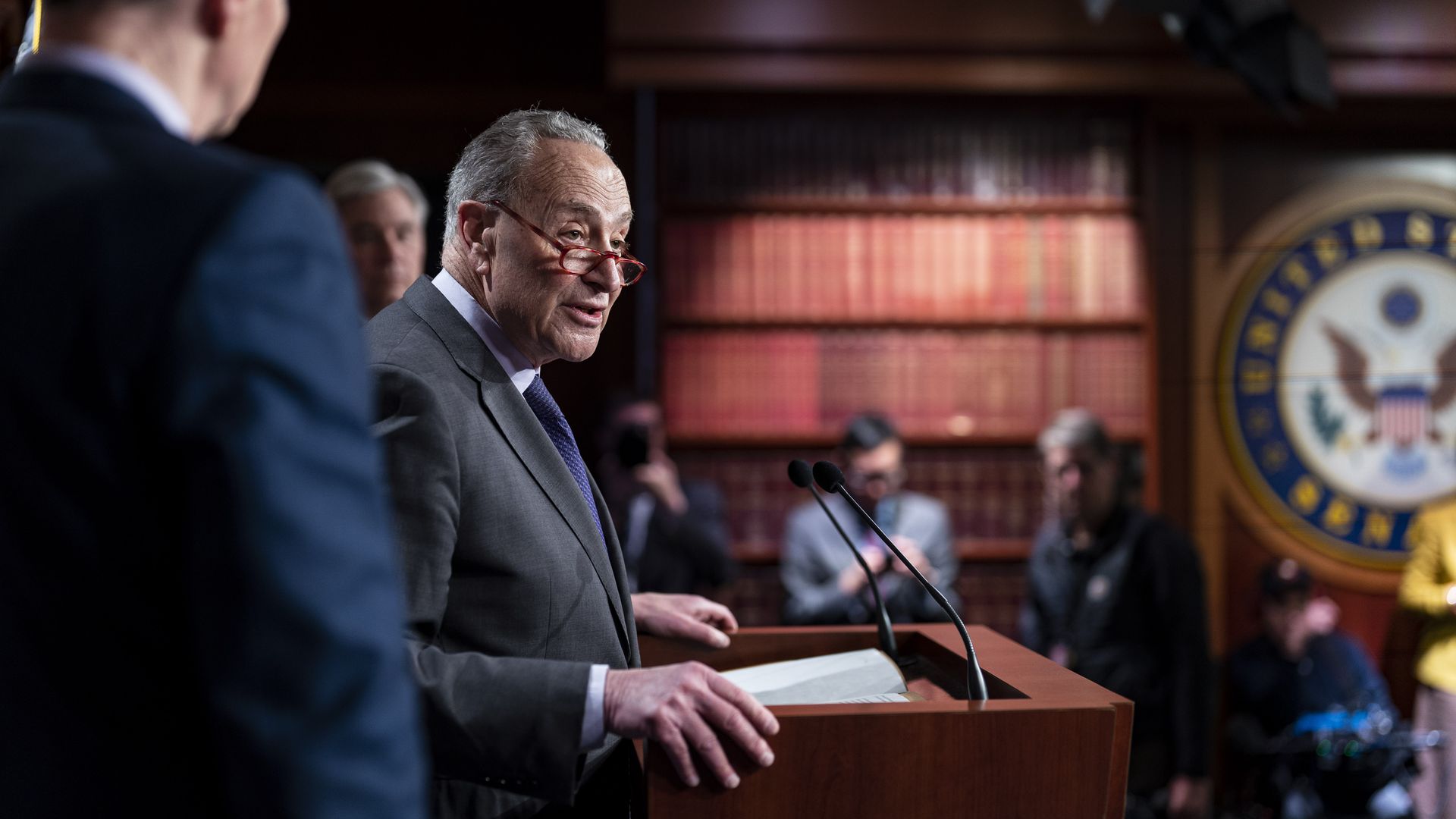 Senate Majority Leader Chuck Schumer. Ph
Senate Majority Leader Chuck Schumer (D-N.Y.) on Wednesday killed any hope House Republicans may have harbored about their sweeping energy package making its way through the Senate – much less becoming law.
Why it matters: It illustrates a dynamic that will become all too familiar by the end of the 118th Congress, with House Republicans passing party-line bills and the Democratic-led Senate putting up a firewall against them.
It also highlights the deep divisions between the two chambers as they prepare to try to work together to fund the government and raise the debt ceiling.
Driving the news: Schumer, in a floor speech on Wednesday, called the legislation a "partisan, dead-on-arrival and unserious proposal for addressing America's energy needs that they have laughingly labeled H.R. 1."
"It's a non-starter in the Senate," the Democratic leader declared, calling the bill a "wishlist for big oil."
"The only way we will pass a genuine energy package this Congress is through bipartisan cooperation," Schumer said, adding that he "strongly support[s]" ongoing bipartisan, bicameral talks on a potential permitting reform deal.
The details: H.R. 1, unveiled by House Republicans on Tuesday, would cut down environmental regulations, expand oil and gas drilling on public lands and waters and repeal parts of Democrats' signature climate law, Axios' Nick Sobczyk reported.
Republicans see it as their starting point for a potential deal with the Senate to overhaul environmental permits.
Sen. Joe Manchin (D-W.Va.) has been meeting in recent weeks with Rep. Bruce Westerman (R-Ark.), one of the architects of the House GOP energy package.
House Energy and Commerce Committee Chair Kathy McMorris Rodgers (R-Wash.) said in a statement the bill "boosts energy production, lifts regulatory burdens for the construction of more energy infrastructure, cuts China out of our critical materials supply chains, and lowers costs across the board."
The big picture: Schumer's comments likely relegate H.R. 1 to the same fate as the For The People Act, a sweeping election reform bill that House Democrats designated H.R. 1 in both the 116th and 117th Congresses.
In both sessions, the bill failed to make it past the Senate – it was blocked from getting a vote by the GOP majority in 2019 and failed to garner the necessary GOP votes to overcome the filibuster after Democrats took the majority in 2021.
Source: Read Full Article