Reliable Sources: Trump's unreality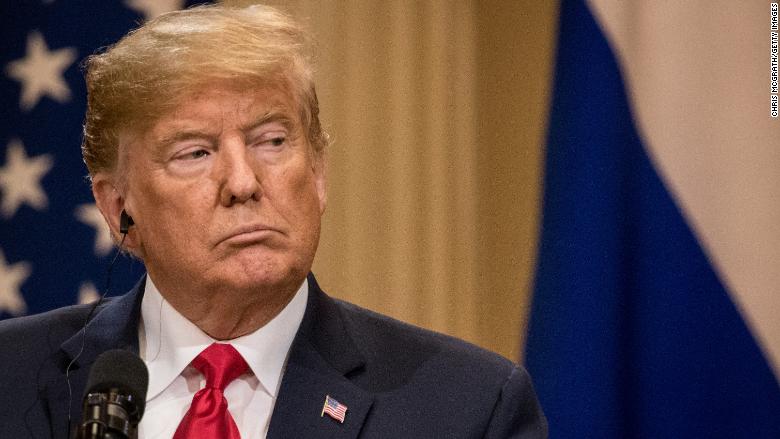 Exec summary: Michael Cohen looks like President Trump's worst enemy, now that CNN has broken a big story about Cohen's claims against the president.
Plus, Facebook has an update about Infowars, the DOJ has a fresh probe of local TV station owners, and there's scuttlebutt about Vogue's September issue.
Trump's unreality
"Just stick with us," the president said two days ago. "Don't believe the crap you see from these people, the fake news. Just remember, what you're seeing and what you're reading is not what's happening."
Now juxtapose that stunning statement — "don't believe… what you're seeing" — with Thursday's headlines:
From bad to worse to…
>> AP: "Emails: Lawyer who met Trump Jr. tied to Russian officials"
>> NYT: "Mueller Examining Trump's Tweets in Wide-Ranging Obstruction Inquiry"
>> WSJ: "Trump Organization Finance Chief Called to Testify Before Federal Grand Jury"
Then, at 9pm ET, a true bombshell…
Here's how Chris Cuomo began his show: "We have a 'Cuomo Prime Time exclusive tonight — a claim that goes to the truth of what the president knew and when he knew about an event that is central to the special counsel's Russia investigation…"
Cohen's flip is complete
Here's the CNN.com lead for the history books: "Michael Cohen, President Donald Trump's former personal attorney, claims that then-candidate Trump knew in advance about the June 2016 meeting in Trump Tower in which Russians were expected to offer his campaign dirt on Hillary Clinton, sources with knowledge tell CNN. Cohen is willing to make that assertion to special counsel Robert Mueller, the sources said."
The sources "said Cohen does not have evidence, such as audio recordings, to corroborate his claim, but he is willing to attest to his account."
–> Key Q now: Who can back up Cohen's version of events? "Cohen alleges that he was present, along with several others, when Trump was informed of the Russians' offer by Trump Jr. By Cohen's account, Trump approved going ahead with the meeting with the Russians, according to sources…"
Bernstein's reporting
Forty five years ago, Carl Bernstein's byline was on story after story about a presidential cover-up. And now Bernstein's byline is on a CNN scoop about another alleged cover-up. If Cohen is telling the truth, then Team Trump has been lying for more than a year.
The sources for Thursday's story came from both Jim Sciutto and Bernstein. Marshall Cohen had the third byline. This story is somewhat reminiscent of January 2017, when Sciutto and Bernstein were two of the bylines on CNN's scoop about intel chiefs presenting Trump with claims of Russian efforts to compromise him…
>> Bernstein's mantra in recent months: "Follow the money, follow the LIES…"
Top reactions
— David Corn tweeted: "If Cohen's account is accurate, Trump conspired with a foreign power to attack and skew a US presidential election for his benefit. How is this not the biggest political scandal in US history?"
— Rudy Giuliani on Cuomo's show: Cohen is a liar, he lies under pressure, he has "lied all his life," etc…
— FLASHBACK: Recall the headline on Jeremy Herb's story from mid-May: "Trump Jr. called a blocked number before and after the Trump Tower meeting. Whom did he call?"
— NYT's Trip Gabriel tweeted: "Spent today talking to lots of Trump supporters here in western PA. Their main message: the media needs to quit with this Russia stuff and let Trump govern the country…"
Now back to Trump's unreality
Two days ago, he urged people not to believe what they see and read. What did he do on Thursday evening? Shortly before 7pm ET, he tweeted out a plug for Alan Dershowitz's three-week-old book. It's a "very important" book, he said. The title: "The Case Against Impeaching Trump."
For the record, part one
— One month has passed since the shooting spree at the Capital Gazette newspaper in Annapolis. Kristen Hare checked in with the survivors for this emotional feature… (Poynter)
— This Saturday, there's a benefit concert, "Annapolis Rising," to raise money for the Capital Gazette Families Fund… Details here… (Patch)
— Facebook shares plunged 19% on Thursday. Per David Goldman, it was "the biggest wipeout in stock market history." What will Friday bring? The stock is up slightly in after-hours trading… (CNNMoney)
Facebook removes four videos on pages operated by Alex Jones and InfoWars
"Facebook removed four videos on pages operated by InfoWars and its founder, Alex Jones, a spokesperson for the social media company said Thursday night," Oliver Darcy reports. The videos violated FB's "Community Standards." Read on…
DOJ "Investigates TV Station Owners Over Advertising Sales"
Thursday's scoop by the WSJ's Drew FitzGerald and Keach Hagey: The DOJ "is investigating whether television station owners violated antitrust law in ways that inflated local television advertising prices."
The story says officials "stumbled across the alleged ad sales practice during their review of Sinclair's $3.9 billion proposed acquisition of Tribune." At issue: Whether competing station owners "coordinated efforts when their ad sales teams communicated with each other about their performance, potentially leading to higher rates for TV commercials…"
Another setback for Sinclair?
Hadas Gold emails: One of my sources speculated that the info came when Sinclair/Tribune gave the DOJ internal documents that gave some impression of communications. Sinclair told the Journal they understood the probe "is not specific to Sinclair, but focuses on the larger broadcast industry."
It's not clear where the investigation will lead or what, if any, consequences the station owners may face. The DOJ, Tribune, Hearst and the NAB all declined to comment. But it's definitely another possible knock to the Sinclair/Tribune deal, which already hit a huge bump last week when the FCC referred the deal to a hearing…
Time for Disney and Fox shareholders to vote
Jill Disis emails: Disney's $71.3 billion purchase of most of 21st Century Fox is almost official. The shareholders for the companies will meet Friday morning in New York to vote on the deal. It's widely expected to pass.
Disney has been working on this deal for the better part of a year, but it was thrown in doubt ever-so-briefly after Comcast made a counter offer. Disney upped its own bid by more than $17 billion, and Comcast backed down. Comcast CEO Brian Roberts walked through his thought process on the company's quarterly earnings call Thursday — basically, the price was just too high.
Comcast is now focused on Sky, the European broadcaster over which it is also fighting with Disney. Roberts was a bit coy on the earnings call: "We think it's a great business, it will fit well, good use of capital. It's also unique, but I don't want to say anymore today…"
–> Related: "Sky just showed why Disney and Comcast are desperate to buy it," Charles Riley reports…
WSJ's deep dive into Univision's problems
If you're a media biz junkie, don't miss Shalini Ramachandran and Ben Mullin's story about the "clashing egos and feuds" over the future of Univision. The story came one day after the company commenced a round of layoffs. There's SO much fascinating detail here…
For the record, part two
— Julia Waldow flagged this: Amazon's facial recognition tool incorrectly matched 28 members of Congress with mugshots in its database, an ACLU report reveals… The matches were disproportionately POC… (CNNMoney)
— The WashPost is looking for a daily podcast host… (WashPost PR)
— Speaking of job openings: "Reliable Sources" has a writer/producer opening. Details here, apply if you're interested! (Turner)
— I promised my wife Jamie I'd plug this job opening too: Her NY1 morning show is on the lookout for a new senior exec producer. Here's all the info… (Spectrum)
Airing of grievances
…That's what Trump was doing when he was speaking in Iowa on Thursday. "They're dying to see us make a little bit of a mistake," he said, referencing the press. "These people, they analyze every single word."
He went on to say that he won a majority of women voters in 2016. He did not. Sarah Westwood fact-checked the speech and found several other false and misleading claims…
W.H. finally fixes Helsinki transcript
Julia Waldow emails: On Thursday the White House belatedly corrected its transcript of Trump and Vladimir Putin's Helsinki press conference, over a week after The Atlantic first reported that Jeff Mason's "did Russia want Trump to win?" question was missing…
Surprise! Omarosa's book is about to come out
I have a feeling this book is going to be a big deal. The publishing house is definitely hoping so. Gallery Books, a Simon & Schuster imprint, surprised a lot of people on Thursday by announcing that former Trump aide Omarosa Manigault-Newman has finished a "tell-all" book — and that it's coming out in a couple weeks.
Interesting launch strategy, right? The book didn't even have a pre-order page on Amazon until this week.
The book title — "UNHINGED: An Insider's Account of the Trump White House" — suggests it will not be flattering for the president or his allies. The publisher says it's a "stunning tell-all and takedown from a strong, intelligent woman who took every name and number… A must-read for any concerned citizen… Explosive, jaw-dropping account." Well, we'll see. The book drops on August 14… Here's my full story…
For the record, part three
— Here's what stood out in DC after the W.H. barred CNN's Kaitlan Collins from attending a Trump event: Solidarity. Press corps unity. Here's my full story… (CNN)
— Shep Smith called out his "personal friend" Bill Shine for the dust-up… (Mediaite)
— Foggy or sunny? "White House faces claims of fake weather news." Hunter Walker explains what happened… (Yahoo)
— Aaron Blake writes: "Trump once attacked Clinton for being afraid of the press. Now his White House seems to be trying to minimize engagement…" (WashPost)
— Why covering Trump is an "unprecedented — yes, unprecedented — challenge:" This is a spot-on piece by Chris Cillizza about superlatives and accuracy… (CNN)
Why did Roseanne give this interview?!
Oliver Darcy emails: While CNN and MSNBC were all over the Cohen news on Thursday night, Sean Hannity aired a surreal interview with Roseanne Barr. If Barr had walked into the taping aiming to rehabilitate her image, she did not perform well. Hannity had to repeatedly prod her to apologize for the racist tweet about Valerie Jarrett that got her fired. It was so strange. Right after Barr looked into the camera and said sorry to Jarrett and said she didn't meant to hurt anyone, she insulted Jarrett: "Seriously, she needs a new haircut."
Things did not get better from there. Hannity asked Roseanne about her 2001 disclosure to Larry King about having Multiple Personality Disorder. "I don't suffer from it anymore," Barr said. "I enjoy it." At the conclusion of the show, as Hannity tossed to Laura Ingraham, Ingraham called it "wild from beginning to end." She compared Hannity interviewing Barr to dealing with a "feral…"
What Barr said
Brian Lowry emails: The TV interview was rambling, tearful, and wide-ranging. Barr reiterated that her VJ tweet was intended to be political, not racial. Notably, she stopped short of repeating her recent claim that she was fired because she's a Trump supporter.
She again offered the excuse that she had taken the drug Ambien when she posted the offensive tweet, which she called "ill-worded." A few of the key quotes:
— "I've apologized a lot. It's been two months."
— Re: the ratings for the reboot: "They can't take that away from me, no matter what's happened." She said ABC won't do as well without her.
— Re: her use of Twitter: "My kids took it away from me forever."
For the record, part four
By Daniella Emanuel:
— The NYT now has a customizable print cookbook… (Eater)
— A streaming service called BritBox is going to make Piers Morgan's show "Good Morning Britain" available in the US… (Deadline)
— ABC has a second "20/20" special about the Thai cave rescues coming on Friday. Two of the British divers that helped the boys are interviewed… (Variety)
Comedy Central picks up repeats of Netflix show
"Comedy Central has acquired the exclusive linear TV rights" to Netflix's animated comedy "BoJack Horseman," Frank Pallotta writes.
What a deal! A Netflix show moving to traditional TV! Andrew Wallenstein's reaction: "Forget counting up Emmy nominations. This reverse syndication deal is a far more significant sign of the growth of Netflix's original content strategy. The company that built itself up buying TV networks' libraries is now selling its own library back to the TV networks!"
As Pallotta's story notes, "it was reported in January that 'BoJack' was being shopped around by Lionsgate's distribution arm Debmar-Mercury in hopes of finding a home in syndication…"
Beyoncé on the cover of Vogue's September issue?
"Beyoncé will be on the cover of Vogue's September issue," Page Six said Thursday night, citing fashion sources. "Meanwhile, rumors continue to swirl that the issue could be Anna Wintour's last…"
>> Michelle Williams is on the cover of VF's September issue… Here's the cover story…
One more season of "The Affair"
"'The Affair' has been renewed for Season 5 at Showtime, which will be the critically-acclaimed drama's final season," Variety's Joe Otterson reports. "The renewal comes ahead of the Season 4 finale, which will air Aug. 19 at 9 p.m. ET/PT…"
Lowry reviews "OITNB" season six
Brian Lowry emails: "Orange is the New Black" drops its sixth season this weekend, but in picking up where the disappointing fifth season left off, the show — one of Netflix's signature series in launching its original programming efforts — looks pretty definitively like its best days are behind it…
Tom Arnold previews his Viceland show
Brian Lowry emails: A day that ended with a Roseanne Barr interview began with her ex-husband Tom Arnold, who spoke at the TCA Press Tour on Thursday morning. Arnold was there to plug his upcoming Viceland show "The Hunt for the Trump Tapes With Tom Arnold." And plugged he did, in his rambling, free-associating fashion, only occasionally answering the question he was actually asked…
For the record, part five
— Chloe Melas reports: "Demi Lovato will seek drug abuse treatment following her hospitalization for an overdose…"
— Lisa Respers France emails: Ring the alarm! Beyoncé posted a new photo of the twins…
— The latest target of right-wing efforts to hit Hollywood celebrities for bad old tweets: Sarah Silverman. Lisa has the full story here…
Source: Read Full Article