Milley described George Floyd riots as 'penny packet protests,' book claims
Pentagon officials confirm awareness of Milley's China call
Fox News national security correspondent Jennifer Griffin discusses the latest on accusations about Gen. Milley's calls to China on 'Special Report.'
General Mark Milley, the Chairman of the Joint Chiefs of Staff, downplayed the riots that took place in the wake of the death of George Floyd as "penny packet protests" and pushed back against claims that it was an insurrection, a new book claims.
"Peril," by Bob Woodward and Robert Costa, claims that Milley was discussing the protests that erupted at the death of Floyd in Minneapolis with then-President Trump in late May 2020.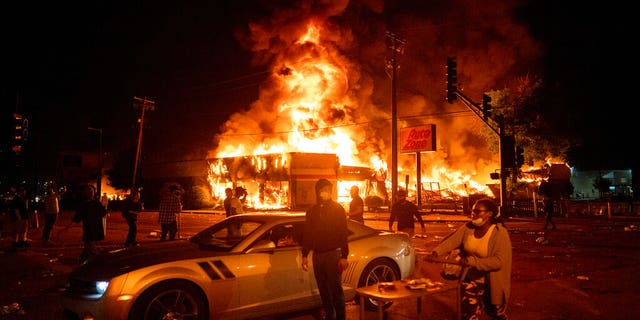 May 28, 2020: An AutoZone store burns as protesters gather outside of the Third Precinct in Minneapolis.  (Mark Vancleave/Star Tribune via AP)
Milley reportedly pushed back against claims that the country was facing an insurrection that was "burning America down."
"Mr. President, they are not burning it down," he said, according to Woodward and Costa.
While it was not clear exactly when at the end of May the conversation took place, by the end of the month there had been rioting in a number of cities, often for multiple nights before authorities could restore order. More than a dozen cities instituted curfews and thousands were arrested, while thousands of National Guard members were deployed in at least 15 states.
"That's pent up in communities that have been experiencing what they perceive to be police brutality," he said.
It was a different approach to the way he viewed the Jan. 6 riot at the Capitol. According to Woodward and Costa, Milley believed that incident "was indeed a coup attempt and nothing less than 'treason.'"
He feared that Trump may be looking for a "Reichstag moment" and believed the attack "so unimagined and savage, could be a dress rehearsal for something larger" as Trump clung to the belief the election was rigged.
A spokesperson for Milley told Fox News that his office was not commenting on the book.
Source: Read Full Article