The media's fascination with Breitbart has faded — and that could spell trouble for the site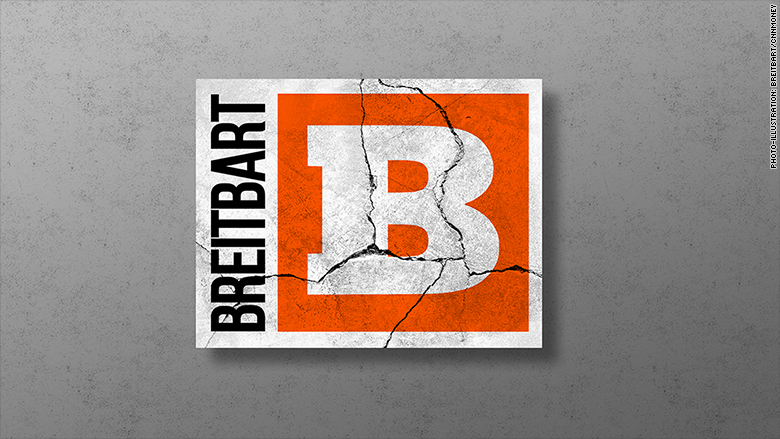 In the early days of the Trump administration, Breitbart, the far-right website previously headed by former White House chief strategist Steve Bannon, drew a significant amount of attention from the Washington press corps.
Reporters tweeted screen grabs of the website's homepage. Magazines printed glossy spreads spotlighting its reporters. Printing houses paid out six-figure advances to authors to write books that focused on Bannon or the company. And cable news outlets and major newspapers focused on how the organization was covering certain stories, ranging from immigration to the investigation into Russian election meddling.
The rationale for coverage was two-fold: That Bannon's relationship to the website meant its coverage provided insight into the "Game of Thrones"-like drama playing out inside the West Wing; and that Breitbart's coverage was representative of a certain swath of the electorate that had propelled Trump into office.
"People thought they could get a jump on what the White House was thinking, and what the pro-Trump propaganda sphere was thinking by reading Breitbart," Charlie Warzel, a senior writer for BuzzFeed who has closely covered the pro-Trump media, told CNN. "A lot of the media saw it as a cheat. You could go to Breitbart, scan some headlines, and immediately be dialed into that area and what was happening in Trump-land."
But now, more than a year and a half into the Trump presidency, much of the interest seems to have dissipated. As the website's traffic declines each month, and without Bannon in the White House or at Breitbart directing coverage, journalists are considerably less interested in what the fledging operation is up to.
That should be of concern to Breitbart. While the website still has influence in the pro-Trump universe it primarily operates in, its impact was for some time amplified by media outlets with larger platforms. Those media outlets carried Breitbart's narratives from the fringes of the right into the mainstream, and in doing so boosted the website's influence. Republicans on Capitol Hill, for instance, would worry about negative coverage from the website, in part, because narratives from those stories would land in the traditional press and be debated by talking heads on television. 
Without that influence, it's difficult to see what Breitbart has left. It doesn't have its founder, the late Andrew Breitbart, who drew attention to the publication through his thunderous antics. It doesn't have Bannon, the person who headed it for years and brought it to the forefront of American politics. It has shed almost all of the marquee writers who brought it to the limelight, like Milo Yiannopoulos and Raheem Kassam. And its traffic has dropped significantly.
"The story of Breitbart's rise and fall is a lot like that of Icarus who arrogantly flew way beyond his station in life, got too close to the sun, and had his wings of wax melt, causing him to fall from the sky," said John Ziegler, a conservative talk show host who writes for Mediaite and was a friend of Andrew Breitbart's.
Reached for comment, Brian Glicklich, a spokesman for Breitbart, told CNN, "According to Alexa, Breitbart is the 65th largest website in the United States, and CNN's opinion of our relevance is meaningless and immaterial to our audience."
The media's diminished interest in Breitbart was perhaps most noticeable in June as news organizations homed in on immigration and the Trump administration's crackdown which resulted in children being separated from their parents at the southern border.
Despite the intense coverage, which blanketed cable news airwaves for days and was featured prominently on the front pages of newspapers, Breitbart remained largely absent in the conversation on immigration. It's not as if Breitbart didn't publish stories on the topic. It did. But Breitbart's editorial perspective on the issue went mostly ignored by the media. That's surprising considering that immigration is arguably the chief issue for the website, which advocates for the implantation of hardline policies, and that journalists had in the past been keenly interested to see how the publication covered news about it.
"A year ago, we all would have been tweeting whatever the Breitbart splash was," Warzel said. "There would have been some incendiary headline, some story — and we would have all been looking to that in some way. … It would have been a huge deal."
Indeed, a sampling of half-a-dozen White House reporters who spoke to CNN on the condition of anonymity said that they either don't read the website anymore or pay considerably less attention to it than they once did.
"Used to read it," one White House reporter told CNN. "Don't read it anymore."
The anecdotal decrease in reporters paying attention to Breitbart is born out by statistics.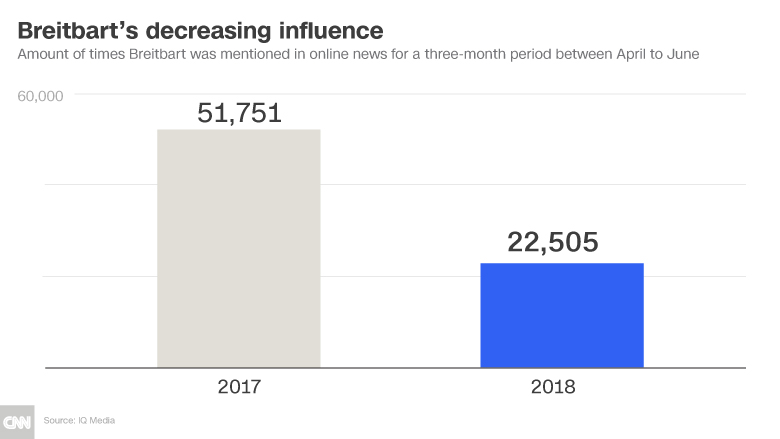 Between April and June of 2017, Breitbart was mentioned 7,944 times on television, according to data from IQ Media, an analytics company that tracks earned media. During that same three-month period in 2018, the number fell to 2,440, a 69% decrease. In online news, between April and June of 2017, Breitbart was mentioned 51,751 times, according to IQ Media. During that same period in 2018, the number sank to 22,505 mentions, a 56% decrease.
Breitbart's traffic has also been in a tailspin, as chronicled by Politico. In June of this year, it attracted 6.1 million unique visitors, down 54% from the same month a year before, according to ComScore, a web analytics company.
Even several people close to the Breitbart concede that the influence it once had in media circles has dwindled.
"They've lost their edge," one person close to the website told CNN.
So why isn't Breitbart receiving the coverage it once did? 
Reporters and people close to the website point to its divorce from Bannon, who exited in January. Previously, Breitbart would offer insight into the fissures that would develop between those belonging to the populist-nationalist base and more establishment-type individuals. Without Bannon in the White House or running the operation, the reporters and people close to the website said, there is less news value in what Breitbart reports.
"I read it less because Bannon isn't in the White House anymore," one White House reporter told CNN. "He used to channel his policy position or vendettas through Breitbart. But if he doesn't have influence, it doesn't matter what they think."
Others point to the fact that Breitbart rarely breaks news or sets the agenda. Instead, Breitbart writers now often simply repackage news that other organizations break. The first person close to the website compared the website to a "right-wing version of The Hill," referring to the politics-focused website known for aggressively aggregating stories from other media outlets. A second person close to the website compared it to Newsweek, another publication whose digital operation has become known for chasing clicks through aggregation. 
"Breitbart was at its best when it knew to ignore 90% of the noise. Now it reports 90% of the noise," the second person close to the website said. "It's just opinion editorials masquerading as news now — effectively aggregated blog posts. That's all it is anymore." 
There are other possible causes for Breitbart's fall within media circles.
Kurt Bardella, a former spokesperson for the website, noted recently on MSNBC that Fox News has moved in on Breitbart's audience, gaining a "stranglehold on the population that is starved for conspiracy theories and all-Trump, all the time content." Fox News, which during the 2016 presidential campaign was more critical of Trump while Breitbart offered a rosy picture of him, has built its current prime time lineup around essentially unwavering support for the President. The network has also invested heavily in its digital operation, which company brass had previously all but ignored. 
Chad Wilkinson, another former spokesperson for the website, offered another reason. He told CNN that the media's interest "may have decreased because there is nobody left they can try to paint as a Nazi or white supremacist."
All of this said, people close to the website still stress that they believe Breitbart continues to command influence on the right. One current employee predicted that, come presidential election season, Breitbart will once again be the focus of the media. 
"Sites like Breitbart thrive in presidential elections," the employee said. "I'll bet that it will start trending back up when the Iowa Caucus comes around."
Source: Read Full Article