Kirsten Gillibrand Has No Idea What James Comey Is Talking About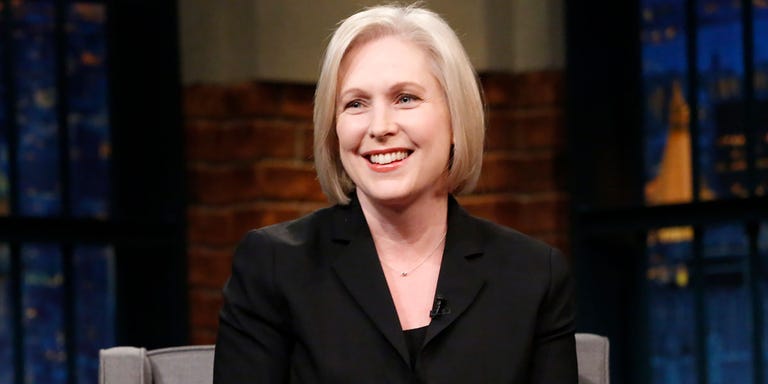 Over the weekend former FBI director James Comey, who was until recently a registered Republican, tweeted a warning to Democrats: "Democrats, please, please don't lose your minds and rush to the socialist left. This president and his Republican Party are counting on you to do exactly that. America's great middle wants sensible, balanced, ethical leadership."
Democrats, please, please don't lose your minds and rush to the socialist left. This president and his Republican Party are counting on you to do exactly that. America's great middle wants sensible, balanced, ethical leadership.
Senator Kirsten Gillibrand is having none of that.
"I have no idea what James Comey is talking about," she said in an interview at the Cosmopolitan.com office Monday. "But I know what I believe in, and I believe that fighting for something like making sure that anyone who wants to be working full-time is working full-time is worth our effort, worth our investment. I believe we should fight for health care as a right, not a privilege, and I think that Medicare For All is one of the best ways to get there. And I really believe that every child should reach their God-given potential, no matter what block they grew up on. And if James Comey wants to define that as 'liberal' or whatever, that's his choice."
President Trump has done exactly what he said he would do. He has appointed someone who will not protect a woman's right to choose. We all know what's at stake: The freedom for women to make our own choices. Equal rights. Our civil rights. Our health care. All of the values we hold most dear. Brett Kavanaugh must not become the next justice of the Supreme Court. But stopping this will take all of us, fighting as hard as we can, raising our voices again and again. We will not give up. We will not give in.
A post shared by Kirsten Gillibrand (@kirstengillibrand) on
Gillibrand also told Cosmopolitan.com that women should oppose Judge Brett Kavanaugh's Supreme Court nomination because "he doesn't believe that you should have the freedom to make decisions about your body and your own reproductive life." But asked if, in retrospect, Justice Ruth Bader Ginsburg or Justice Stephen Breyer should have retired in the early years of the previous administration so Obama could nominate their replacements, she said no.
"I think Justice Ginsburg and Justice Breyer have done extraordinary work as Supreme Court justices," she said. "I think Justice Ginsburg is one of our greatest justices ever–the way she writes decisions, the way she can persuade her colleagues is extraordinary. I hope she lives another ten years and continues to serve on the Supreme Court."
If Kavanaugh is confirmed to the Supreme Court, the future of women's reproductive freedom in this country would come down to the decisions of five men.
Women must fight back against this dangerous nomination with everything we have. Our fundamental civil rights are at stake.
And on the same day that her Republican opponent for Senate, Chele Chiavacci Farley, released an ad saying Gillibrand was "busy running for president," Gillibrand insisted that she wasn't looking toward the Oval Office. Pressed on whether she was even considering running, she said, "Nope. I am only focused right now on 2018."
"The most important thing anyone can do right now is find a candidate to support, help them get their message out, help their voice to be heard," she said. "That will change the players list in Washington, which will create the opportunity to stop some of the worst things President Trump is doing."
Follow Lori on Twitter.
Source: Read Full Article