Judge's order for LA Times to alter published story sparks outrage from press advocates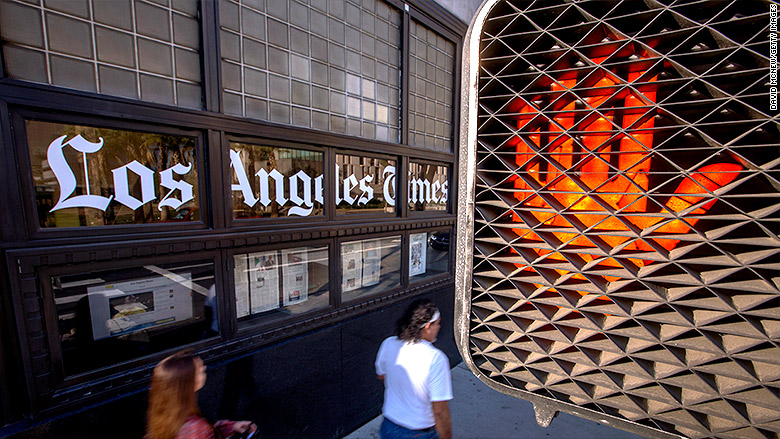 The Los Angeles Times is readying a legal fight after a federal judge ordered the newspaper to remove portions of a story it published over the weekend, a decision that has alarmed First Amendment advocates.
The story in question, which ran on Saturday, involved a Glendale, California, police officer, John Saro Balian, who pleaded guilty to charges that he lied to federal investigators about his connection to an organized crime syndicate. Balian's plea agreement was under seal, but it was mistakenly posted in an online court database, where it was found by a reporter for the Times.
Within hours of the story's publication, the Times received an order from Judge John F. Walter to remove details of the plea agreement. The paper complied with the order, and the story now includes an update at the bottom informing readers that the references were removed.
Crag Missakian, an attorney for Balian, criticized the Times for publishing the details.
"As important as the First Amendment is, it does not grant the press an absolute license to put another man in harm's way," Missakian told CNN in an email. "In restraining the Los Angeles Times from disclosing details of an under seal filing–details that will put defendant and his family at risk–the court's order struck the proper balance between freedom of the press and defendant's equally important due process rights. The Times claims it had the legal right to disclose the confidential document but apparently gave no thought to whether it was the right thing to do."
On Sunday night, the Times filed an emergency motion for a stay in the Ninth Circuit Court of Appeals; that filing is under seal.
"We believe that once material is in the public record, it is proper and appropriate to publish it if it is newsworthy," Norman Pearlstine, the executive editor of the Times, said in a statement.
The court order has drawn a rebuke from the Reporters Committee for Freedom of the Free Press, which is planning to file an amicus letter in support of the Times.
Katie Townsend, legal director for the group, said the committee will be soliciting signatures for the letter, which will likely be filed later on Monday. Townsend expects a number of media organizations to sign the letter.
Source: Read Full Article