Jordan subpoenas FTC chair over probe into Musk's Twitter takeover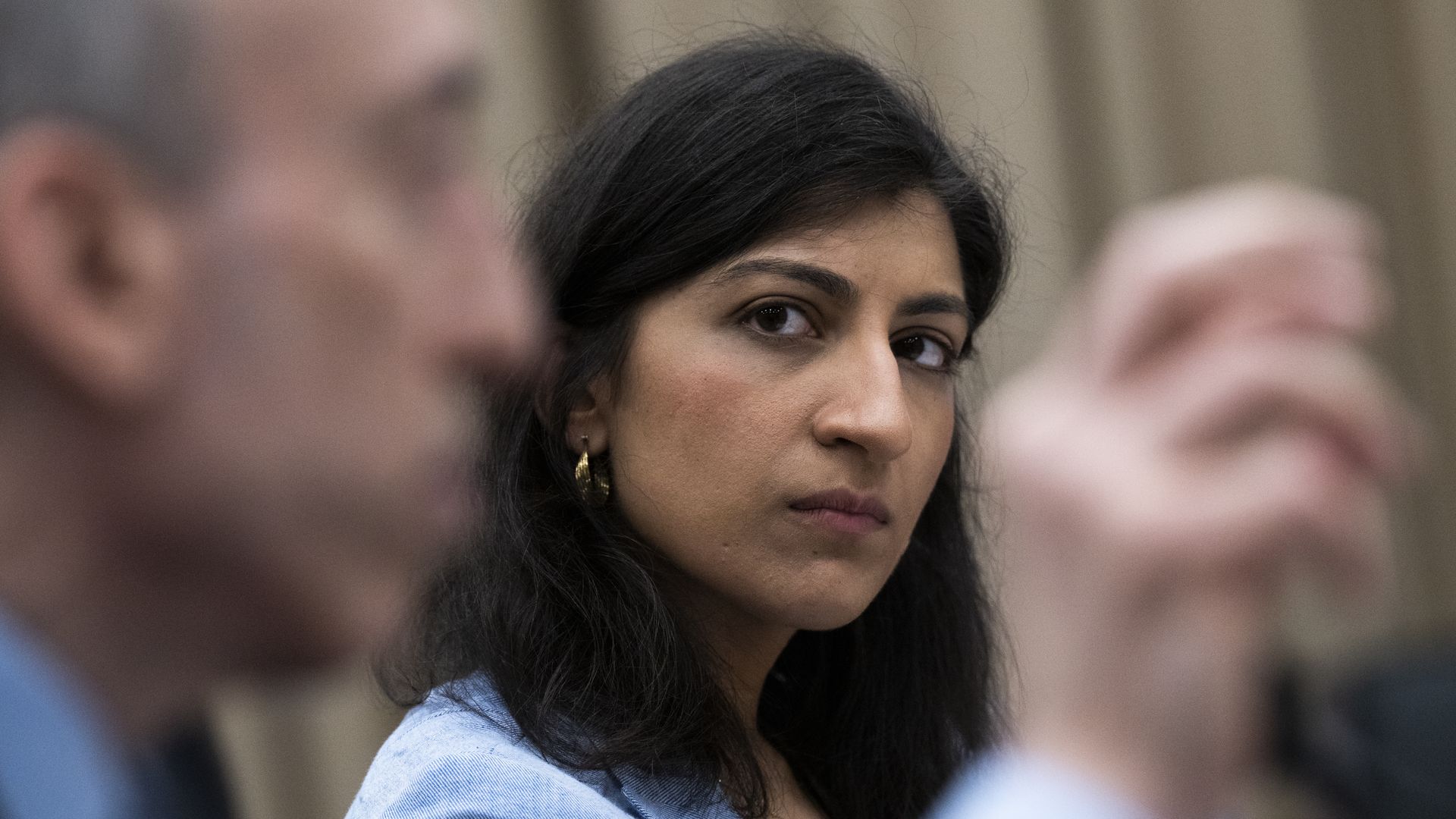 FTC Chairwoman Lina Khan during the House Appropriations Subcommittee on Financial Services and General Government hearing. Photo: Tom Williams/CQ-Roll Call, Inc via Getty Images)
House Judiciary chair Jim Jordan (R-Ohio) subpoenaed Federal Trade Commission chair Lina Khan on Wednesday over that agency's probe of Elon Musk's purchase of Twitter, according to copies of the subpoena obtained by Axios.
Why it matters: House Republicans have made the FTC's investigation into Musk's purchase of Twitter one of many targets in their war against what they view as the weaponization of the U.S. government against conservatives.
The details: The new subpoena demands a sweeping range of documents and internal communications relating to the FTC's probe, asking that they be turned over to the committee by 9 a.m. Wednesday, April 26.
"To date, your voluntary compliance has been woefully insufficient," Jordan wrote in a letter addressed to Khan.
"Accordingly, the Committee is issuing a subpoena to compel the production of documents necessary to inform our oversight."
The letter defends the committee's oversight power and notes that "legislative reforms could include… laws to ensure that the FTC's investigative and enforcement authority is not abused in ways that hurt commerce and competition or harm civil liberties and free speech."
The big picture: The Judiciary Committee has raised concerns about whether the FTC overreached in demanding that Twitter identify members of the media that were provided access to the company's internal records.
Conservatives believe that Twitter's previous leadership unfairly censored some communications by conservatives before the 2020 election.
At the time, Twitter said it was focused on removing disinformation, posts the company deemed racist, and those that violated Twitter's user agreement.
Sen. Ted Cruz (R-Texas) has teamed up with Jordan in leaning on the FTC. The "FTC's legal authority does not include dictating entire swaths of corporate behavior," Jordan and Cruz wrote in a letter last month to Khan.
The FTC has sent more than a dozen letters to Twitter since Musk's takeover. It has asked about recent layoffs and details on the firm's sharing of internal documents with reporters.
It's not unusual for the FTC to investigate big tech companies. And Twitter has been under a consent decree over concerns about the security of user data, including who has access to it, for years. "FTC investigations are straightforward and nonpolitical," an FTC spokesperson has said.
Source: Read Full Article