DeSantis takes direct shot at Trump ahead of potential indictment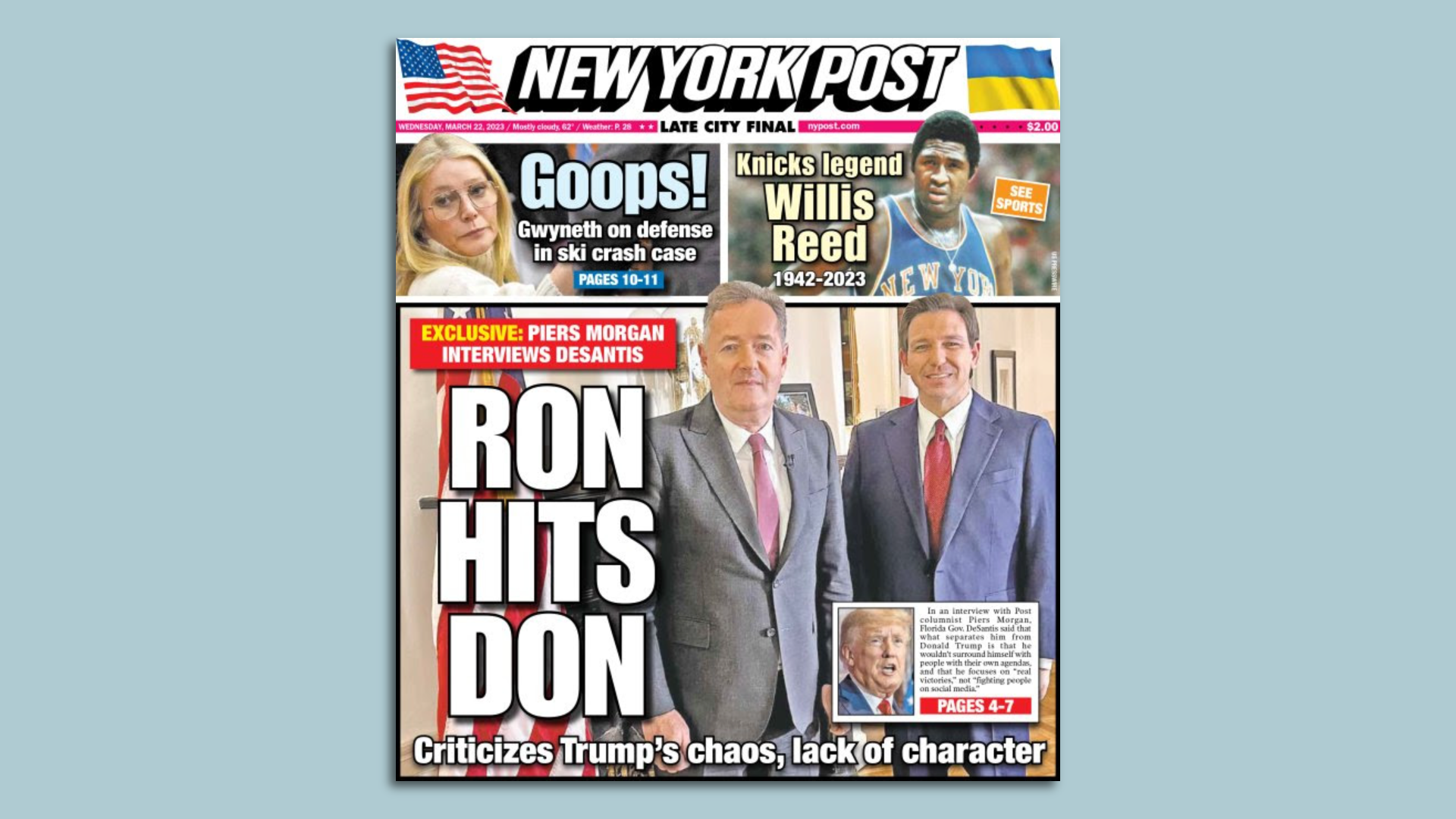 Today's N.Y. Post
Florida Gov. Ron DeSantis took direct shots at the competence and character of Donald Trump — his likely rival for the '24 GOP nomination — after months of brushing off the former president's taunts.
Driving the news: "It's not important for me to be fighting with people on social media," DeSantis said during an interview for "Piers Morgan Uncensored" on the streaming service Fox Nation (via N.Y. Post).
Why it matters: DeSantis, who has dipped in polls amid Trump attacks, knew there was rising risk in remaining a sitting duck while his constituent Donald Trump rampages inside Mar-a-Lago.
"[T]he way we run the government, I think, is no daily drama," DeSantis told Morgan, who was visiting Florida from London.
Asked about conduct in a leader, DeSantis said: "You really want to look to people like our founding fathers … [I]t's not saying that you don't ever make a mistake in your personal life. But I think: What type of character are you bringing?"
Much of this is subtly previewed in DeSantis' new book, "The Courage to Be Free." N.Y. Times columnist Carlos Lozada writes that DeSantis' case against Trump is scattered throughout the pages: "You just need to squint through a magnifying glass to find it."
"I placed loyalty to the cause over loyalty to me," DeSantis writes. "I had no desire to be flattered."
Reality check: DeSantis' is shifting gears just as many top Republicans — even some possible '24 rivals — are rallying to Trump ahead of his expected indictment.
Trump senior adviser Jason Miller told me DeSantis risks making himself "unpalatable for many looking to 2028 and beyond."
DeSantis appears to be trying to hit just hard enough to get under the skin of Trump, who's still calling him "Ron DeSanctimonious."
"I don't know how to spell the 'sanctimonious' one," the honors Yale grad told Piers Morgan. "I don't really know what it means … [I]t's got a lot of vowels."
DeSantis told Morgan: "If I were to run … I'm running against Biden."
Asked if he could beat Biden, the governor said: "I think so."
DeSantis, noting his strength with independents in his November re-election blowout, said: "[T]hat will be the same formula that we would take … You can't win with just Republicans."
Go deeper: DeSantis opens Pandora's box
Source: Read Full Article