Democrats go after Supreme Court on student debt forgiveness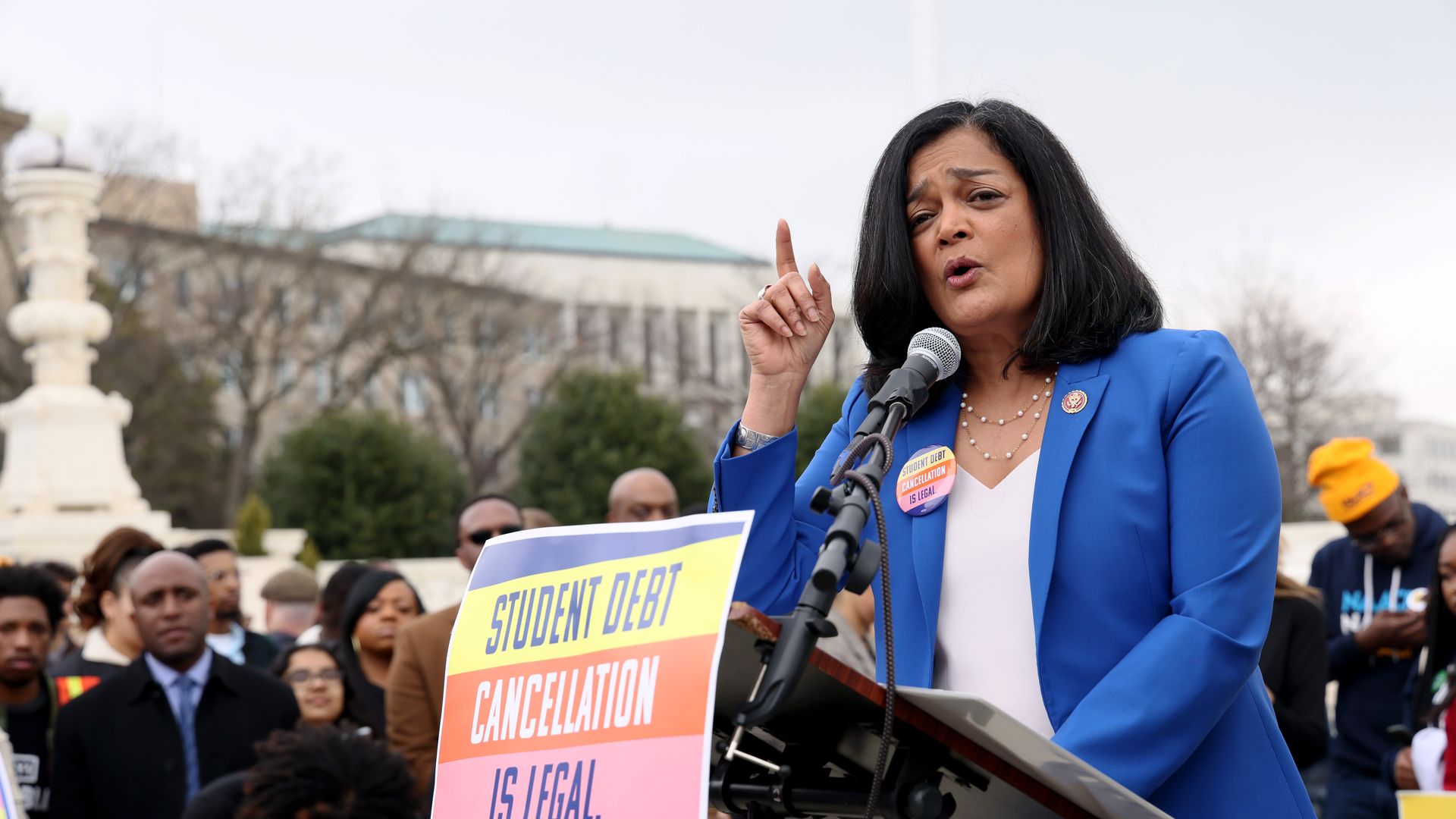 Rep. Pramila Jayapal on February 28, 2023 in Washington, DC. Photo: Jemal Countess/Getty Images for People's Rally to Cancel Student Debt
Progressive lawmakers are accusing conservative Supreme Court judges of putting politics over legal analysis on President Biden's student debt forgiveness plan.
Why it matters: Those lawmakers say existing legislation gives the Biden administration the authority to eliminate debt, a decision that is in the best overall interest of the economy.
Driving the news: Several conservative justices suggested on Tuesday that lawmakers should be involved in the Biden administration's desire to eliminate about $400 billion in debt without congressional authorization.
The court has used the "major questions doctrine" to strike down Democratic priorities like environmental regulations and COVID vaccine mandates, Axios' Erin Doherty reports.
What they're saying:
Rep. Pramila Jayapal (D-Wash.), chair of the Congressional Progressive Caucus, told Axios: "The reality is that if the Supreme Court was just looking at legal authority and not the politics, if this wasn't an extreme MAGA court that seems to be bringing things other than the legal analysis into question, I think this would be an open and shut case."
Rep. Cori Bush (D-Mo.) said in a statement: "I've heard from people across the country who have shared how this relief would change their lives – from being able to afford childcare, to paying their medical bills, to being able to put food on the table."
The background: Biden unveiled a plan in August 2022 that would forgive up to $20,000 of federal student loan debt for individuals who met certain income requirements.
More than 40 million people would potentially benefit from the plan, which is estimated to cost about $400 billion over 30 years.
The initiative is Biden's latest attempt to address the rising costs of higher education, an issue the Democrat first proposed on the campaign trail in 2020.
The administration has canceled more than $33 billion in student loan debt so far — more than any presidential administration in history.
The other side: Conservative lawmakers expressed support for the several lawsuits over the president's student debt cancellation policy.
"Borrowers signed on the dotted line for their college loans and for President Biden to step in and illegally attempt to absolve their responsibility to pay these loans back does not make that debt disappear," Rep. Virginia Foxx (R-N.C.), chair of the House Committee on Education and the Workforce, told Axios.
Sen. Chuck Grassley (R-Iowa), ranking member of the Senate Budget Committee, tweeted Biden's plan "force taxpayers to foot other ppl's bills."
"SCOTUS should scrap this plan & Congress should pass my bills to give students improved tools to inform their borrowing choices," Grassley tweeted.
What's next: SCOTUS will continue to hear arguments about the legality of Biden's plan before making a decision.
"We are demanding that the Supreme Court just follow the law and do what's right," said Rep. Jamaal Bowman, vice chair of the Congressional Progressive Caucus.
Source: Read Full Article