Cynthia Nixon Demands Fair Treatment From Democratic Arm That Aided Cuomo
The Democratic Governors Association contributed $20,000 worth of research to the re-election campaign of two-term New York Gov. Andrew Cuomo (D), according to a financial disclosure released Tuesday.
The DGA, which helps elect Democratic governors and has endorsed Cuomo, claims the contribution predated Cynthia Nixon's March entry into the race. The disclosure says the contribution took place on June 13, but the DGA insists the timestamp is a function of when Cuomo's team completed the paperwork, rather than the date of the contribution itself.
Now Nixon's campaign, which is challenging Cuomo from the left, is demanding a comparable donation from the DGA.
"The party has to start listening to their voters and stop trying to silence them," said L. Joy Williams, a spokeswoman for the Nixon campaign. "If the DGA is going to share 'research' with one Democratic candidate running for governor, they need to share it with all of them."
Jared Leopold, a spokesman for the DGA, said the group would not be aiding Nixon since it has endorsed Cuomo.
"The DGA regularly partners with our incumbent governors on policy research. This policy-oriented poll was conducted prior to a primary announcement," Leopold said. "The DGA is proud to support our incumbent governors, including Gov. Andrew Cuomo, as they continue to lead their states forward and fight back against the Trump agenda."
It is indeed commonplace for official party bodies to endorse and even assist incumbent elected officials.
Unlike its counterparts in the House and Senate though, the DGA claims it does not invest resources in incumbents when they have primary challengers. On Thursday, however, the DGA announced it was giving $1 million to Better Rhode Island PAC to ensure a Democrat remains in the governor's mansion. The money could theoretically be used to help incumbent Gov. Gina Raimondo, who is facing a primary challenge from Secretary of State Matt Brown.
And the revelation comes amid growing progressive discontent with Democratic Party brass. The energy in the party's restive base was exemplified most recently by Alexandria Ocasio-Cortez's upset victory over Rep. Joseph Crowley last month in the Democratic primary for New York's 14th Congressional District.
Ocasio-Cortez mainly had to overcome the opposition of the state and local Democratic parties; the Democratic Congressional Campaign Committee did not get involved in the race. In other cases, however, like the DCCC's attack on progressive Texas House candidate Laura Moser and its late-stage endorsement of a onetime abortion rights opponent in New York's 24th, activists have chafed at official party organs' heavy-handed tactics.
To date, the DGA's $20,000 in-kind contribution is the first potential evidence of its interference in the heated New York gubernatorial race ― and even then, the supposed timing makes claims of intervention questionable.
Still, other ostensibly neutral party leaders have been less reticent about the contest. Tom Perez, chairman of the Democratic National Committee, endorsed Cuomo in his personal capacity in May, prompting criticism from several DNC members.
"If Tom Perez and the Democratic establishment had their way, there would be no Alexandria Ocasio-Cortez," Nixon campaign spokeswoman Williams said.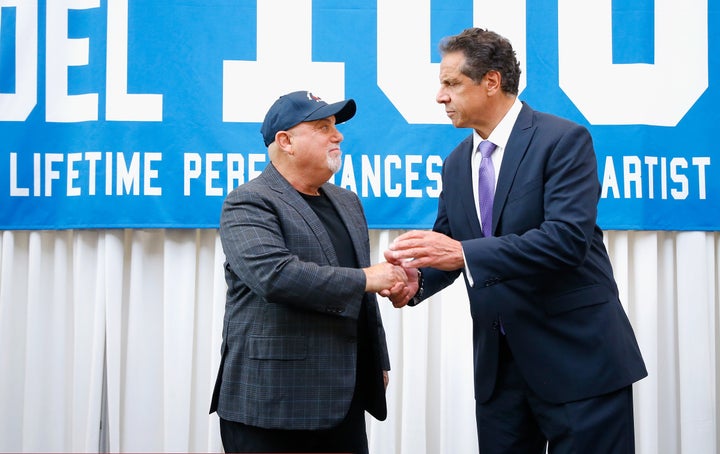 Ocasio-Cortez's June 26 win prompted a surge in donations and volunteers for Nixon, an actress and education activist who cross-endorsed Ocasio-Cortez the day before her surprise victory. In the days after Ocasio-Cortez's win, Nixon picked up the endorsements of former City Council President Melissa Mark Viverito and City Councilman Jimmy Van Bramer, a former Crowley supporter who represents part of Ocasio-Cortez's district.
Tuesday's financial disclosures nonetheless reveal the scale of Nixon's challenge as she tries to unseat Cuomo, whose war chest and network of allies are formidable.
Cuomo raised $6 million in the first half of 2018, bringing his total haul to over $31 million. He spent over $5 million over that period, however, reflecting the seriousness with which he has taken Nixon's challenge.
For her part, Nixon has raised $1.6 million since entering the race in March. Her campaign emphasizes her reliance on small-dollar donations, with nearly 97 percent coming in increments of under $200.
Cuomo, by contrast, has been notoriously dependent on large donations. As of November 2017, 99.9 percent of his donations had come in increments of $200 or more.
In an attempt to reduce the average size of Cuomo's campaign donations, several Cuomo friends and allies donated repeatedly in small amounts in the first half of the year. Christopher Kim, who lives with Cuomo campaign aide Julia Yang, contributed 69 times in the days before the fundraising deadline, according to a New York Times analysis of the financial disclosure; 67 of the donations were $1.
Cuomo enjoys a 35 percentage point lead over Nixon, according to a poll released Thursday by Quinnipiac University.
Nixon's campaign noted several recent primary outcomes that defied polling, including in New York's 14th. Crowley held a 36-point lead over Ocasio-Cortez in an internal poll conducted weeks before his defeat.
"Democratic primaries on a Thursday in September are decided by who turns out their voters," said Nixon campaign spokeswoman Lauren Hitt. "And whether you look at donors, social media engagement, or his poor book sales, there is no enthusiasm for Mr. Cuomo."
This story has been updated with comment from Nixon campaign spokeswoman Lauren Hitt and to include details of the DGA's involvement in the Rhode Island gubernatorial race.
Source: Read Full Article