Biden targeting illegal border crossings with new policy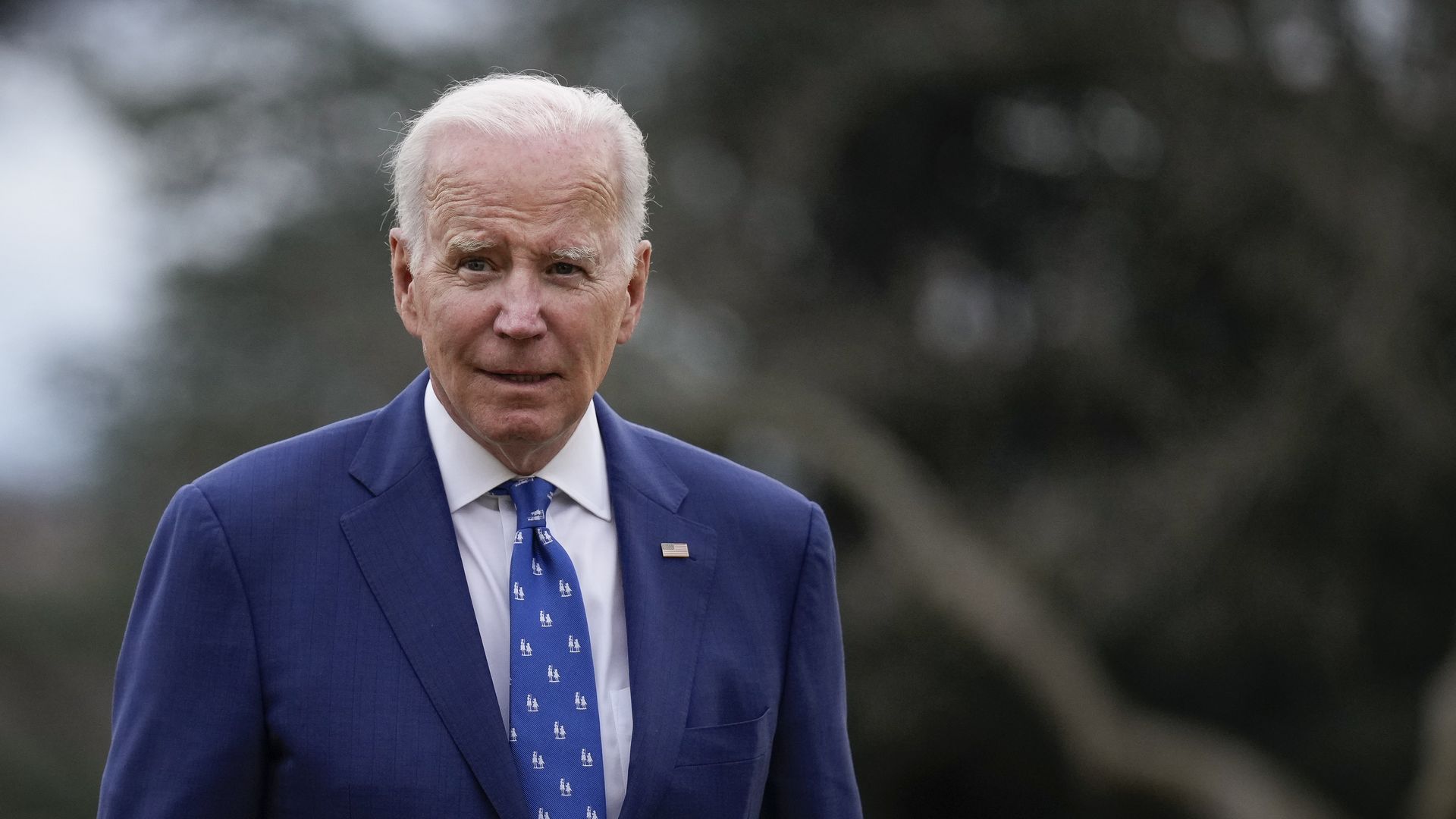 Biden walks from Marine One toward the Oval Office. Photo: Drew Angerer/Getty Images
In a rare public address dedicated to the border issue, President Biden unveiled a policy on Thursday to curb illegal border crossings, telling migrants from Cuba, Nicaragua and Haiti to "not just show up at the border."
Why it matters: Record numbers of migrants and asylum seekers arriving at the U.S.-Mexico border have created humanitarian crises, logistical headaches and a political nightmare for Biden from nearly the start of his presidency.
The latest: The Department of Homeland Security and Department of Justice are proposing a rule to disqualify from asylum migrants who attempt to enter the U.S. without first pursuing legal pathways such as the parole program or seeking protection in a country they traveled through to get to the U.S., DHS Secretary Alejandro Mayorkas announced Thursday, following Biden's speech.
There will be some exceptions, though the specifics are still unclear.
Mayorkas also announced the launch of a new process through a Customs and Border Protection app, that will allow migrants to schedule a time to meet with officials at a legal port of entry.
What's next: Biden will make his first visit to the border in El Paso, Texas, on Sunday, ahead of his trip to Mexico.
It is notable that Biden himself has chosen to announce the new border tactics on Thursday.
The news comes after U.S. border officials encountered an average of more than 8,000 border crossings every day in December, according to one senior administration official.
Driving the news: The new move takes a carrot and stick approach to border crossings.
The carrot: The policy offers legal entry into the U.S. under humanitarian parole for up to 30,000 migrants and asylum seekers a month from Nicaragua, Haiti and Cuba — in addition to Venezuela — senior administration officials told reporters.
Applicants can apply from their phone, but must have a U.S. sponsor and go through a vetting process.
The stick: It leverages Title 42, a pandemic rule, to rapidly expel to Mexico up to 30,000 migrants from those nations each month if they attempt to cross the U.S. border illegally rather than going through the parole process.
Migrants and asylum seekers who illegally cross into Panama or Mexico will automatically be disqualified from the parole program.
The process for Venezuelans has been in place since October. The number of Venezuelans attempting to cross the border has since declined.
What they're saying: The Congressional Hispanic Caucus will have a call with the White House Thursday evening to discuss details of the new border policies, according to multiple Democratic members.
Rep. Joaquin Castro (D-Texas) told Axios he is "concerned about the expansion of Title 42 and some of the provisions turning away asylum seekers."
Sen. Bob Menendez, (D-N.J.) in a statement called the expanded use of Title 42 a "disastrous and inhumane relic of the Trump Administration's racist immigration agenda" — an "affront" to solving the border crisis.
In sweeping remarks, Biden laid out actions being taken by the administration to address irregular migration as well as some of the challenges — including asylum officer and immigration judge shortages and people attempting to cross the border multiple times under Title 42.
"We have a patchwork system that simply doesn't work as it should," he said.
He acknowledged that migrants "come to America for a whole lot of different reasons," including to seek new opportunities in "the strongest economy in the world — can't blame them wanting to do it."
He placed some of the blame on Congress, and said Republicans now have a choice: "They can keep using immigration to try to score political points or they can help solve the problem."
"This is a hard one to deal with, but we have to deal with it. I mean, it's who we are," he concluded before questions.
In his own address, Mayorkas said border challenges "are straining our capacity and those of our state, local and NGO partners to manage it."
By the numbers: Of the more than 230,000 southwest border crossings in November, nearly a third came from Nicaragua, Haiti and Cuba, according to Customs and Border Protection data.
Just 14% were from the Northern Triangle countries of Honduras, Guatemala and El Salvador, which had been the top sources of migration in past administrations.
Frosty U.S. diplomatic relations with countries such as Venezuela, Nicaragua and Cuba make deportation more difficult.
What to watch: The administration is announcing a plan to triple refugee resettlement from within the Western Hemisphere this fiscal year.
Administration officials told reporters they are also increasing the use of pre-pandemic, expedited removal proceedings in anticipation of the eventual end of Title 42.
This process allows officials to more quickly deport migrants and asylum seekers who are not granted protection, and comes with a 5-year ban on those migrants from re-entering the U.S.
Between the lines: The new parole program expansion is dependent on Mexico's cooperation, which has accepted its own nationals under Title 42, as well as migrants from the Northern Triangle and Venezuela.
While parole provides people the opportunity to legally live and work in the U.S., it is only a temporary protection and does not come with a direct pathway to legal permanent status or citizenship.
Editor's note: This story has been updated with reaction from Democratic lawmakers.
Source: Read Full Article