Annual "Bloody Sunday" commemoration will occur without John Lewis for first time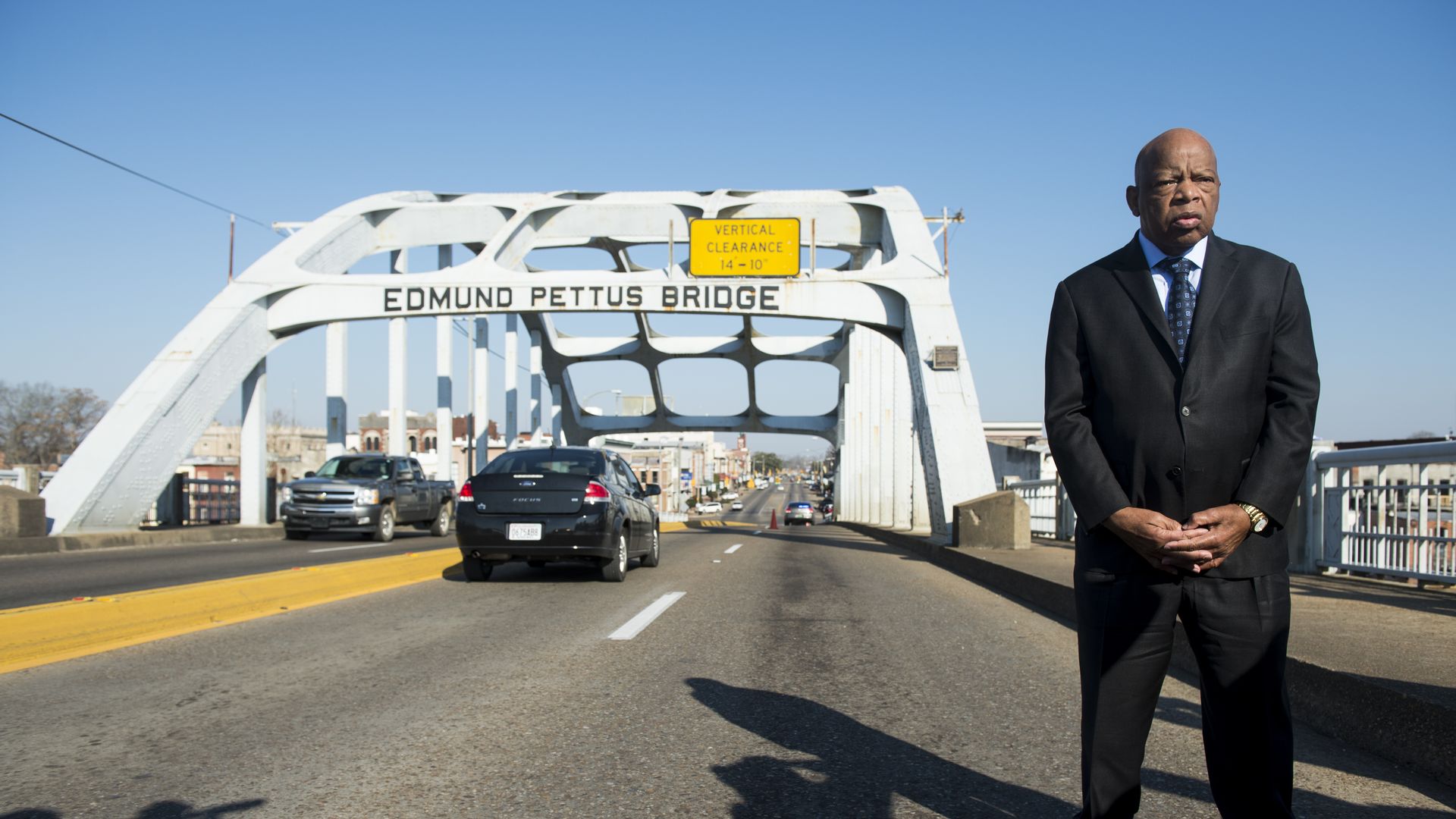 U.S. Rep. John Lewis, D-Ga., who died in 2020, stands on the Edmund Pettus Bridge in Selma, Ala., in between television interviews on Feb. 14, 2015. PHOTO: Bill Clark/CQ Roll Call
Civil rights advocates are preparing to mark the first anniversary of Selma's "Bloody Sunday" without the late Rep. John Lewis, and as the first anniversary of George Floyd's death approaches. 
Why it matters: A three-day virtual event seeks to acknowledge aging civil rights activists who pushed the nation to expand voting rights in 1965. It also comes as a new generation of advocates fights against voter suppression proposals and pushes police reforms.
For nearly three decades, Lewis and other civil rights veterans crossed the Edmund Pettus Bridge out of Selma, Ala., annually to commemorate the March 7, 1965, violent attack on peaceful marchers by police.
A state trooper used a billy club to crack the skull of then-25-year-old Lewis, a former president of the Student Nonviolent Coordinating Committee who tried to lead 600 or so marchers to Montgomery over voting rights.
Lewis died of pancreatic cancer in July 2020 after serving 17 terms in the U.S. House of Representatives.
The images of the brutal beating of unarmed demonstrators, aired on national television, sparked national outrage similar to the anger from the viral video of a police officer killing George Floyd a half-century later.
The details: The free 56th Bridge Crossing Jubilee will be conducted online because of COVID-19 restrictions and will feature testimonies from original footsoldiers who were with Lewis.
Drew Glover, the Selma Bridge Crossing Jubilee principal coordinator, said the event will also feature step shows, musical performances and panels about today's debates over voting rights and police reforms.
The event will end with a virtual-reality crossing of the bridge to place attendees at the spot where marchers crossed and were later beaten, Glover told Axios.
Other civil rights leaders, like Rev. William Barber II of the Poor People's Campaign and United Farm Worker co-founder Dolores Huerta, are scheduled to join.
What they're saying: "Now the question is: Are we going to pass the John Lewis Voting Rights Advancement Act? Are we just going to have another meeting and sing a few songs and say a prayer and go home? I would hope not," Rep. Jim Clyburn (D-S.C.) told Axios.
The proposal seeks to restore full protections of the original, bipartisan Voting Rights Act of 1965, passed after Bloody Sunday.
Clyburn said he hopes the virtual events "rekindle the flame and legacy of John Lewis" for a new generation of advocates.
Flashback: "At times, history and fate meet at a single time in a single place to shape a turning point in man's unending search for freedom. So it was at Lexington and Concord. So it was a century ago at Appomattox. So it was last week in Selma, Alabama," President Lyndon Johnson told a special joint session of Congress after civil rights demonstrators were attacked.
"Their cause must be our cause too. Because it's not just Negroes, but really it's all of us, who must overcome the crippling legacy of bigotry and injustice. And we shall overcome."
Johnson's use of a civil rights rallying-cry brought Dr. Martin Luther King, Jr. to tears. The 1965 Voting Rights Act was passed months later.
Don't forget: The Edmund Pettus Bridge is named after Edmund Winston Pettus, a former Confederate brigadier general, U.S. senator, and leader of the Alabama Ku Klux Klan.
Some advocates are seeking to rename the Edmund Pettus Bridge, now a National Historic Landmark, after Lewis.
Source: Read Full Article