How First Republic rescue, Silicon Valley Bank could cost Main Street America
video
Howard Lutnick: Investors trading SVB stock taking a 'wild risk'
Cantor Fitzgerald Chair and CEO Howard Lutnick and Meridian Equity Partners senior managing partner Jonathan Corpina analyze the Silicon Valley Bank government rescue on 'The Claman Countdown.'
The nation's biggest banks are pumping roughly $30 billion into First Republic following the collateral damage from the collapse of Silicon Valley Bank (SVB) and Signature Bank. 
JPMorgan Chase, Wells Fargo, Bank of America, Citigroup and Truist are some of the major banks making over $1 billion worth of uninsured deposits in what they are calling a commitment to "helping banks serve their customers and communities." In a statement, the banks said "regional, midsize and small banks are critical to the health and functioning of our financial system."
SILICON VALLEY BANK RECKLESS WITH RISK, ESG PUSH: STATE FINANCIAL OFFICERS
Ticker
Security
Last
Change
Change %
JPM
JPMORGAN CHASE & CO.
130.75
+2.49
+1.94%
WFC
WELLS FARGO & CO.
39.30
+0.43
+1.12%
BAC
BANK OF AMERICA CORP.
28.95
+0.45
+1.58%
C
CITIGROUP INC.
45.62
+0.80
+1.78%
TFC
TRUIST FINANCIAL CORP.
32.95
+0.84
+2.63%
The deal comes after big banks received an influx of billions of deposits from midsize lenders, including First Republic, over the past week in the wake of the collapse of SVB.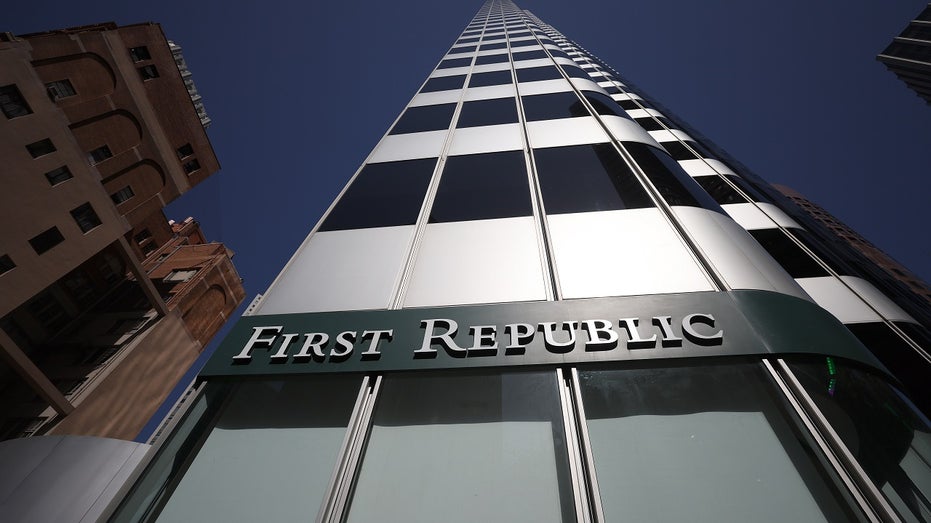 A sign is posted on the exterior of a First Republic Bank office on March 16, 2023 in San Francisco. (Photo by Justin Sullivan/Getty Images / Getty Images)

However, in the wake of the shutdown, lobbyists for America's large network of small banks are arguing the nation's 4,235 community banks should not have to pay for the mistakes of SVB.

"The real question here is 'how is this paid for?'" said Independent Community Bankers of America CEO Rebeca Romero Rainey. "We believe it should not be paid for by the taxpayers, and we believe it should not be paid for by community banks. This should be paid for by the largest, riskiest institutions that really are very different from what community banking is."

SILICON VALLEY BANK COMMITTED 'ONE OF THE MOST ELEMENTARY ERRORS IN BANKING,' LARRY SUMMERS SAYS

Any losses incurred by the FDIC will be paid back by a "special assessment on banks" to replenish the fund. 

Community bank leaders tell FOX Business that sharing the financial burden with larger institutions is unfair. They say those costs come like any other expense on their companies, which impacts profitability and undermines the ability to attract capital used to support new lending going forward. Higher FDIC insurance would also be levied against depositors. 

"It's circular," Peapack-Gladstone Bank CEO Doug Kennedy said. "While it's not directly hitting the client, it does factor into the viability of our company to be able to provide a competitive return on capital."
Ticker
Security
Last
Change
Change %
PGC
PEAPACK GLADSTON FINL.
33.49
+0.83
+2.54%
The small banks provide the necessary capital for businesses in their local communities to innovate, prosper and employ people, from mom-and-pop shops to regional, mid-market-sized companies, according to Kennedy. 

According to the FDIC, 36% of all small loans to farms and businesses, 29% of commercial and real estate lending and 63% of agricultural loans come from community banks. Over the pandemic, community banks financed 30% of Paycheck Protection Program loans. 

"Having small community banks caught up in the shadow of a large bank slipping and falling undermines all the great things that a bank like a Peapack-Gladstone Bank does on a local basis," Kennedy said. 

Peapack-Gladstone Bank is based in the New Jersey area and offers commercial services such as wealth management, investment banking, residential lending and online platforms and more. Founded in 1921, the bank has established relationships with its customers and roots in the local communities, which is one of the reasons why it saw an uptick in deposit flows in recent days. 

CLICK HERE TO GET THE FOX BUSINESS APP

Some lawmakers are introducing legislation that aims to protect consumers and small banks across the country from footing the bill. 

The Protecting Consumers from Bailouts Act – introduced by Republican Sens. Josh Hawley of Missouri and Mike Braun of Indiana – would prohibit banks from passing on the costs of any special assessment related to Silicon Valley Bank or Signature Bank to customers. The bill would also "prevent the FDIC from levying special assessments on community banks to pay for bailing out the uninsured depositors of failing banks."

GET FOX BUSINESS ON THE GO BY CLICKING HERE

"Consumers and community banks should not have to shoulder the cost of fiscal irresponsibility by big financial institutions," Hawley said in a statement. "The Biden administration wants to take money from the American taxpayer and local banks through new fees so they can use it to bail out California billionaires. We must protect hardworking Americans and force the big banks to pay for their own mistakes."

Source: Read Full Article