Dr Dough Donuts won't franchise any time soon
Geoff and Kristy Bannister learnt a lot about Australia's troubled franchise sector when they took their talents from hamburgers to doughnuts.
At a time when franchising is under attack from federal politicians, regulators and investors, the Bannisters are applying all the lessons they learnt working in operations at McDonald's to a thriving new business called Dr Dough Donuts.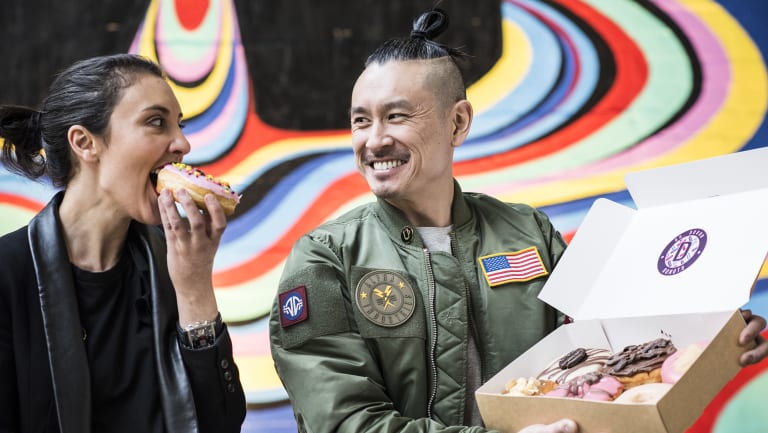 Geoff and Kristy Bannister, owners of Dr Dough Donuts.
But the couple have resisted seductive offers to turn Dr Dough Donuts into a franchise that can be sold to small-business people nationally.
Instead, they want to use the lessons they learnt at McDonald's and at their own company to help other small-business owners.
Doughnut frenzy
Only 24 months after opening, Dr Dough Donuts sells 500 doughnuts a day. Sales peaked this year on National Doughnut Day, with the Bannisters managing to shift 2000 in a single day.
"Year to date we're doing 100 per cent sales comp," Mr Bannister said. Now the Bannisters are looking at locations in Melbourne and other locations in Sydney to expand from their Pyrmont base.
The business operates out of a cafe the Bannisters also run, called Mug Life. An initial investment of $160,000 was enough for the Bannisters to open two Mug Life locations, one in Pyrmont and one in Potts Point, as well as Dr Dough Donuts out of the Pyrmont cafe.
The Potts Point location proved to be unprofitable and closed, so the pair turned their attention to Pyrmont. However, the doughnut business they started in the cafe to maximise the use of their space turned into the star of the show. Dr Dough Donuts has had turnover of $800,000 in the past 12 months, up from $480,000 the previous year.
Dr Dough Donuts has turned into the star of the show for Kristy and Geoff Bannister.
Lessons from McDonald's
Mr Bannister's main takeaway from his years working at McDonald's was that any good franchise is centred around "operations and efficiency". Applying this to his small business, Mr Bannister has focused on streamlining and improving processes to make his employees' job easier.
He also said small-business owners needed a clear idea of where they wanted their business to end up from the outset. "Our aim was always get in there, see what we can do, but have an end goal. We don't want to be hands on in 10 years," Mr Bannister said. The ideal situation for his doughnut business is that it would be ready to sell after five years.
Avoiding franchising
As the pair look to the future, the rapid rise and fall of doughnut chain Doughnut Time is something the Bannisters have thought about. "The model I don't think was right," Mr Bannister said. He thinks Doughnut Time could have used its in-store floor space more efficiently.
The Bannisters have resisted several offers to turn their business into a franchise.
"I know that right now there's no way I'd be able to [become a franchise] … and do it the right way," Mr Bannister said.
The franchise sector has been under scrutiny and is likely to face greater regulatory oversight.
A Senate inquiry prompted by a series of articles in Fairfax Media has highlighted underpayment of workers and other issues at 7-Eleven, Caltex and Domino's pizza franchises. These cases suggested the franchising business model was in crisis.
Mr Bannister said potential franchisees should think carefully before committing their savings to a franchise. "If you just started from scratch yourself, with the right advice and used that [initial investment] to build the business, could you do it better yourself?"
Kirsty and Geoff Bannister are now offering advice to other small-business owners.
Offering advice
He said the main problem small-business owners faced was they don't have access to the right advice when their business has just started. This leads many small businesses to collapse early, and makes owning a franchise seem like a safer, more secure option.
The Bannisters are trying to combat this issue, by working with Navigate Virtual CFOs, an accounting firm in North Sydney, to start a consultancy arm of their business.
Potential small-business clients who sign up to the monthly service have their accounts and finance handled by Navigate, and the Bannisters provide advice to guide clients through the tricky opening phases of running a new business.
In doing so, they are bringing their franchise experience to small-business owners without the rigidity and contracts associated with owning a franchise.
Source: Read Full Article