Bank casts doubt on testimony of funeral plan flogger
The Bank of Queensland has cast doubt on the testimony of one of the witnesses at the royal commission by refuting claims by Select AFSL director Russell Howden that Select stopped selling funeral plans to indigenous customers of its own volition and not at the urging of the bank.
BOQ has also hit back at claims it provided inaccurate information to the royal commission  following allegations by Mr Howden.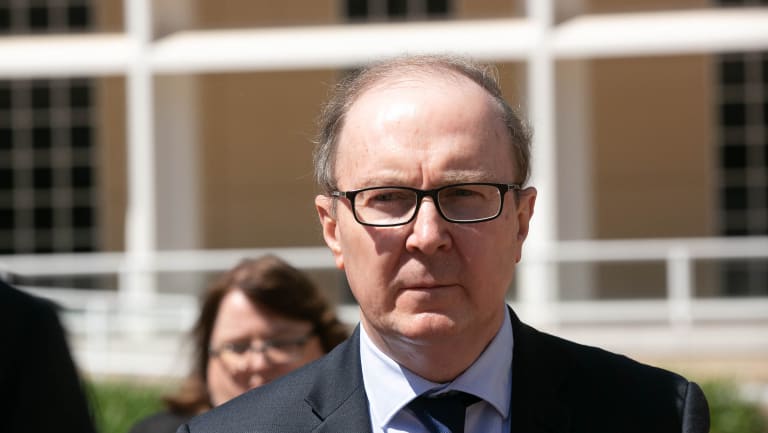 Russell Howden the director of Select AFSL Pty Ltd after giving evidence at the royal commission in Darwin earlier this month.
The royal commission heard earlier this month that Select offered its telemarketers perks including a Las Vegas holiday, Vespas, and a cruise to the Sunshine Coast for selling the most funeral insurance policies.
Select and another company, Aboriginal Community Benefit Fund, were strongly critcised at the royal commission hearing in Darwin in July over high pressure telemarketing tactics and the  targeting of vulnerable consumers in indigenous communities.
Select also came under fire after several telemarketing calls played to the royal commission revealed former Bangarra Dance Company employee Kathy Marika being harassed by Select staff into purchasing several funeral plans, including for her grandchildren, despite repeatedly saying she did not want the products.
Counsel assisting the royal commission, Rowena Orr, QC, told the royal commission earlier this month that Select may have committed a criminal offence when its telemarketers allegedly provided personal advice without a licence.
Kathy Marika at the royal commission in Darwin.
Sydney-based Select sold funeral plans under the "Let's Insure" brand. The Let's Insure brands were underwritten by St Andrew's, an insurance company that was owned by BOQ until April this year.
In its submission to the royal commission filed this week, BOQ strongly refuted Mr Howden's claim Select stopped selling funeral plans to vulnerable consumers including indigenous people of its own volition.
Mr Howden had also told the royal commission that St Andrew's "never told us to stop selling".
However, BOQ said emails between St Andrew's staff and BlueInc, a company associated with Select, did kybosh the sales program.
"Proactive sales calls be put on hold until the following actions have been completed", St Andrew's senior manager Patrick Moore wrote in an email to a manager at BlueInc, the company that owns Select AFSL.
Another email shows St Andrew's chief executive Matthew Way telling Mr Howden that it was the  "strong position [of St Andrew's] that Select immediately cease the sales activities identified by ASIC".
According to BOQ, Mr Howden acknowledged the email, saying, "As you would be aware a key recommendation from Patrick is that 'proactive sales calls be put on hold' until certain actions are completed. In the circumstances, we confirm that we have suspended all Let's Insure sales and remediation activities."
Mr Howden also told the royal commission that a draft "action plan" designed to remedy Select's errant sales processes that was tendered to the inquiry by BOQ was inaccurate and misrepresented Select's responses to BOQ's recommendations.
But BOQ said: "Mr Howden was given the opportunity to correct these response if they were inaccurate (as he suggested in the course of his evidence) but did not do so."
Mr Howden and Select AFSL did not respond to Fairfax Media's inquiries.
Source: Read Full Article