Bank bosses face royal commission grilling
The bosses of the country's biggest banks are expected to be hauled before the royal commission in November.
Fairfax Media understands that Commonwealth Bank's Matt Comyn, ANZ Bank's Shayne Elliott, Westpac's Brian Hartzer and National Australia Bank's Andrew Thorburn will all face questioning at the commission.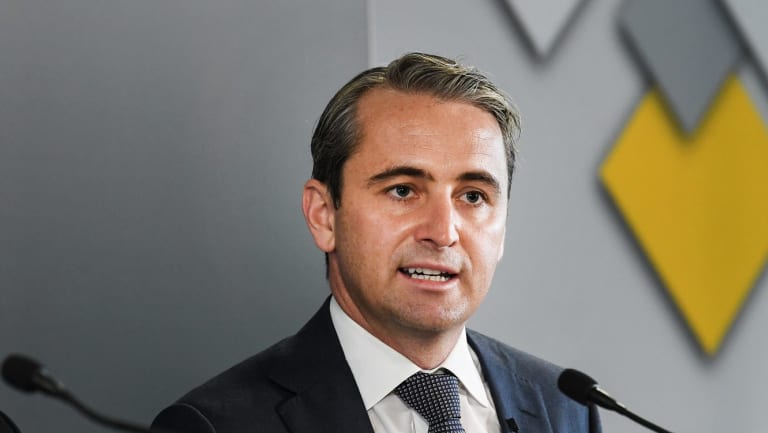 CEO Matt Comyn is one of the bank chiefs expected to be called to give evidence on policy at the royal commission.
The bank boss grilling comes as the royal commission confirmed it would be sticking to the original timeline of issuing an interim report in September despite criticism the inquiry has not delved deep enough into poor behaviour in the industry, and offers by the Turnbull government to extend proceedings beyond the year-long time frame originally stipulated by Canberra.
The CEOs are expected to appear at the seventh round of hearings between November 19 and November 30 where the royal commission will examine the policy questions arising from the first six rounds.
Sources said the banks were already starting to prepare their respective chiefs for the examinations.
However, the bosses are not expected to face the hardline questioning from counsel assisting Kenneth Hayne that their junior executives have experienced at earlier hearings. It is understood the focus will be on bank policy.
The royal commission announced on Friday it would hold two additional rounds of hearings before delivering a final report in February next year.
Westpac chief executive Brian Hartzer.
Insurance will be the focus of the sixth round of hearings which will be held in Melbourne between September 10 and September 21.
Life insurance is expected to be a key focus of the hearings. A series of reports in 2016, including a joint Fairfax Media and Four Corners expose in 2016 on the Commonwealth Bank's former insurance arm CommInsure, revealed a litany of poor practices in the sector including terminally ill patients being refused payouts and doctor shopping.
The superannuation sector, including the retail funds owned by the big banks and union-backed industry super funds, are already gearing up for the fifth round of hearings which begin on August 6.
Commissioner Hayne also confirmed on Friday that he intends submit an interim report to the Governor-General Peter Cosgrove by September 30.
NAB's Andrew Thorburn.
The interim report will only cover the first four rounds of hearings and focus on policy related issues.
In a statement released on Friday, the royal commission said the interim report will not cover superannuation and insurance.
Public submissions will be turned off at the end of round six.
By the end of round six, the royal commission will have heard 69 days of evidence regarding misconduct across the entire financial services sector in Australia.
By comparision the Trade Union Royal Commission sat for 189 days or the royal commission into Victoria's Black Saturday fire which ran for 155 days.
Source: Read Full Article