Airlines are bumping a lot more passengers lately
video
Buttigieg: We will be holding Southwest Airlines accountable
Rep. Nancy Mace discusses the Southwest Airlines meltdown and how Pete Buttigieg responded to the matter on 'Maria Bartiromo's Wall Street.'
More U.S. passengers are being bumped from their flights, reversing steady industrywide improvement and adding to the broader frustrations many have with airlines.
The Wall Street Journal's annual airline scorecard found that airlines have been bumping fliers more often than the previous year, and the comparable prepandemic period. This happens when more people are scheduled to fly than there are available seats.
The Journal's rankings examined U.S. Transportation Department data from October 2021 through September 2022, the most recent available. The rate of passengers denied boarding by U.S. airlines more than doubled compared with the same period the year before. That period included three months of 2020 travel. The rate rose 24% compared with the period that began in October 2018, the most recent period involving typical, prepandemic travel.  
FILE – In this June 16, 2021 file photo, travelers queue up in long lines to pass through the south security checkpoint in Denver International Airport in Denver. (AP Photo/David Zalubowski, File) (AP Photo/David Zalubowski, File / AP Newsroom)

Airlines sometimes oversell their flights to compensate for no-shows. Carriers usually can anticipate the number of travelers who won't show, and most customers can board their flights without issue. But bumping can also happen when carriers switch aircraft and have fewer seats than planned.

QANTAS AIRWAYS SEES SECOND FLIGHT INCIDENT IN 2 DAYS, AS FIJI-BOUND PLANE HAS 'POTENTIAL MECHANICAL ISSUE'

The reasons for this year's increase vary based on the airline. Among the factors: fuller planes, reduced flying schedules and more carriers needing to switch aircraft, airline executives and analysts say. 

One airline performed the worst by far: Frontier Airlines involuntarily bumped 6,057 of the 23 million passengers who flew the airline, for a rate of 2.63 per 10,000 passengers.
Ticker
Security
Last
Change
Change %
ULCC
FRONTIER GROUP HOLDINGS
11.73
-0.28
-2.37%
In the comparable period in 2018-2019, the airline denied boarding to 839 of the nearly 21 million passengers it flew, for a rate of 0.4 per 10,000 passengers.

Frontier declined to comment.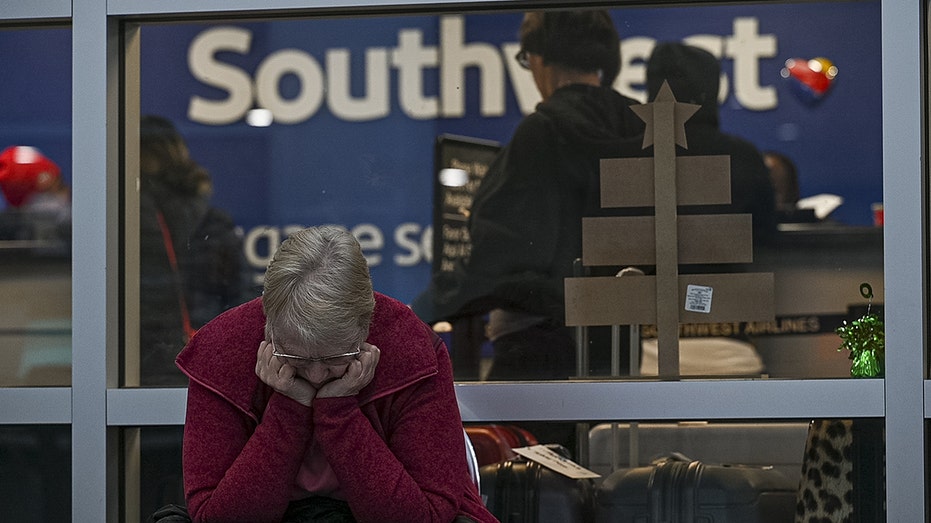 A traveler waits outside the Southwest Airlines baggage office at Oakland International Airport (OAK) in Oakland, California, US, on Wednesday, Dec. 28, 2022. (Photographer: David Paul Morris/Bloomberg via Getty Images / Getty Images)

Among those 6,000-plus passengers was Michelle Cecala, who learned after checking in and arriving at the St. Louis airport in June that her Frontier flight was oversold. She says the next available Frontier flight wasn't until the next day.

JFK AIRPORT SEES SECOND DANGEROUS INCIDENT IN DAYS AS JETBLUE FLIGHT 'BUMPS' ANOTHER PLANE

She ended up booking a ticket on Southwest Airlines to avoid missing part of the conference she planned to attend in San Diego. She says that cost more than doubled her Frontier fare. Frontier refunded her original ticket and, after she spoke to a manager, she received a $600 Frontier voucher—roughly the cost of the Southwest flight.
Ticker
Security
Last
Change
Change %
LUV
SOUTHWEST AIRLINES CO.
35.87
-0.43
-1.20%
The voucher required Ms. Cecala, who lives in Fort Myers, Fla., to book a flight within 90 days, which she says she wasn't able to do. She received an extension on the voucher after speaking with the Journal this month.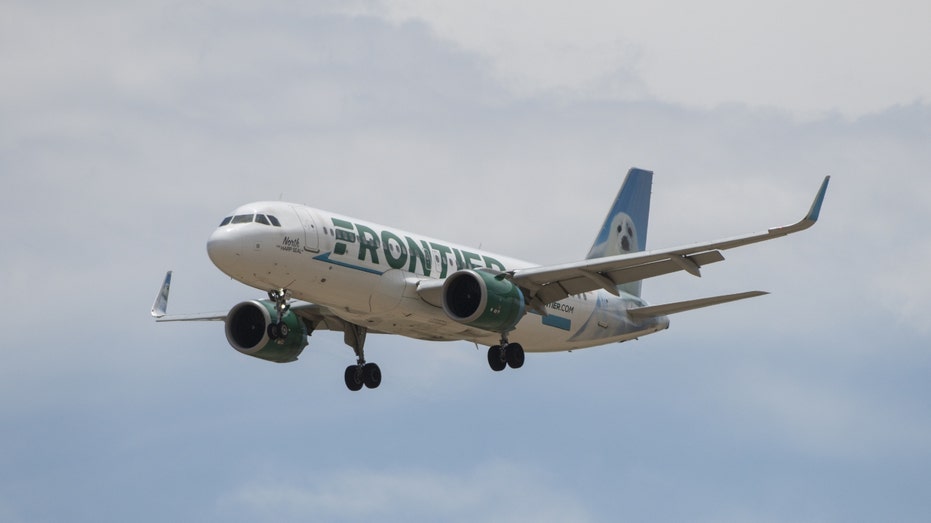 A Frontier Airlines flight prepares to land at Denver International Airport in Denver, Colorado, US, on Wednesday, June 29, 2022. (Photographer: Daniel Brenner/Bloomberg via Getty Images / Getty Images)

"It was a very stressful mess," she says.

A Frontier spokeswoman says the flight was changed to a smaller aircraft, which means Ms. Cecala wasn't owed compensation per DOT rules, but she received a voucher.

Southwest finished second-to-last in the WSJ rankings for its rate of involuntary denied boarding. A spokesman says this happens when the airline needs to change aircraft. The most recent rate of Southwest passengers who were bumped more than doubled from the period beginning in October 2018, according to DOT data.

SOUTHWEST PILOTS TO VOTE ON WHETHER TO AUTHORIZE UNION LEADERS TO CALL FOR STRIKE

Effects of Covid-19 and weather disruptions like Hurricane Ian, which tore through the Southeast in September, created irregular operations, a spokesman said in an email.

Airlines say they have made a push to bump fewer passengers after David Dao was forcibly dragged off a United Airlines flight in 2017.

Some airlines don't bump any passengers, including Allegiant Air. It didn't have a single case of involuntary denied boarding from October 2021 to September 2022, DOT data shows. The airline's flights are nonstop and there are no connections, so passengers can't get bumped due to missed connections, a spokesman said in an email. 

Because flights have been fuller, the alternatives might not get passengers to their destination until several days later, says Bob Mann, an industry analyst with R.W. Mann & Co., an aviation sector consulting firm. That means airlines need to offer more money to passengers to switch their plans. 

If no one volunteers, airlines typically look first at those who paid the least or who checked in last, he says. 

Delta Air Lines has for years paid more passengers to voluntarily change their plans than other carriers. It paid nearly 96,000 people to voluntarily change their plans from October 2021 to September 2022, for a rate of about six passengers per 10,000. That rate is 62% higher than the average rate of all the airlines WSJ evaluated.

A spokesman says Delta asks for volunteers more often, explaining why the airline bumped exactly four passengers in the 12-month window, as DOT data shows.

In some situations, fliers willing to gamble can end up holding out for a surprisingly high offer. Delta drew attention on social media last summer when passengers on a flight from Michigan to Minnesota reported being offered $10,000 each to give up their seats on an oversold flight. (A spokesman called the situation very uncommon while declining to discuss specifics of the offer. He declined to specify the average amount paid to travelers on oversold flights.) 
Ticker
Security
Last
Change
Change %
DAL
DELTA AIR LINES INC.
37.30
-1.07
-2.79%
Ali Caudle and her mother traveled from Missoula, Mont., to Minneapolis on Delta in April for a college visit in Boston. While in Minneapolis, she says her gate agent offered travelers about $400 to change to a later flight to Boston. The next flight was over 10 hours later. 

The pair decided to wait to see if the amount increased. It did. 

They each received $1,200 to take the later flight, she says, getting the payment in Visa gift cards. 

"We did get to Boston in the middle of the night, but it was completely worth it," she says. She used the gift cards to load up on items for college.

CLICK HERE TO GET THE FOX BUSINESS APP
Your Rights If You Get Bumped
The DOT has rules about what airlines owe involuntarily bumped passengers.
If you are bumped for an oversale, you are owed compensation at the airport the same day. But in certain cases, like if a smaller plane was substituted or the plane holds fewer than 30 passengers, you aren't eligible for compensation.
In an oversale situation, your compensation varies based on the price of your ticket and your arrival delay. If you have a short delay, you'll likely receive payment equal to double the one-way price of the original flight. Airlines can limit this amount to $775.
If you arrive more than four hours later than originally scheduled, you are entitled to payment of four times the one-way value of the flight. Airlines can limit this amount at $1,550.
Source: Read Full Article