Portfolio refresh a chance to reset in year-long Shares Race
Race leader, Fairfax business reporter Jennifer Duke, saw her total portfolio dip after Nine's takeover offer for Fairfax Media.
Her portfolio dipped to $114,771 from $115,662 at the last update as her $10,000 holding in Nine Entertainment dropped to $13,878 from $15,306.
On the other hand, her holding in Nearmap has gained value with her original $10,000 in the geospatial map technology company now worth $20,884.
But Duke is still well ahead of the pack, with Angie Ellis of 80 20 Investments and The Motley Fool's Scott Phillips in second and third place respectively.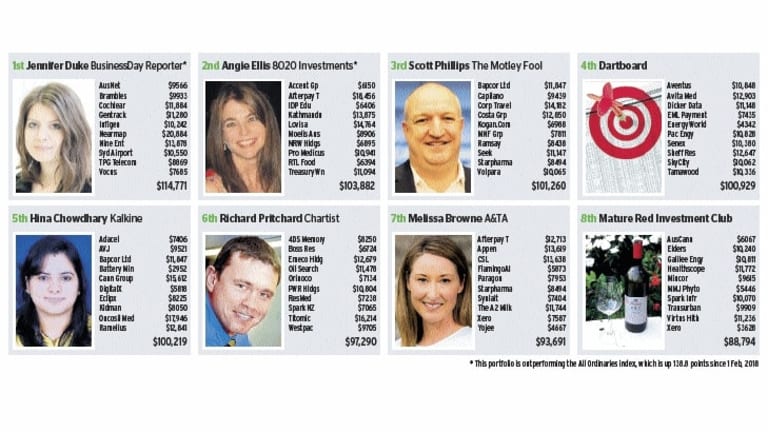 The racers were given the opportunity to sell and buy new stocks at the end of June. Duke and Phillips opted for no change.
Ellis, whose total portfolio is worth $103,882, chose to sell four of her stocks – Yojee, Livehire, Kogan and Orocobre. With the proceeds she bought Accent Group, NRW Holdings, RTL Food and IDP Education.
Afterpay Touch Group, the "buy now, pay later" app, remains Ellis's best pick with her original $10,000 worth $18,456 after the company continues to receive shareholder support following a sharp jump in sales.
Phillips' best pick so far is Corporate Travel Management, worth $14,182 from $13,963 last week.
The year-long Shares Race started on February 1 with the market up by about 2.5 per cent since then. The S&P/ASX 200 closed on Thursday at 6,244.5 points.
The Shares Race is a fantasy shares trading game. The Year-Long Shares Race, running from February 1 to December. Dividends will be added to the portfolios at the end of the game.
Source: Read Full Article