It's getting real: World economy feels the bite from Trump's trade war
Protectionism is slowly starting to weigh on the global economy.
From demand at factories to company profits and prices consumers are paying, the tit-for-tat trade battle US President Donald Trump started with China and the European Union is starting to show up in numbers. And it's still early days, with Trump saying on Tuesday that "tariffs are the greatest," a warning that he may not let up until he gets what he wants.
The latest signs of the fallout came in activity reports from Japan, Europe and the US, as well as anxious words from companies facing an additional uncertainty and having to decide between taking a hit to their profit margins or jacking up prices. Many manufacturers are also facing higher raw-material costs, another squeeze on earnings.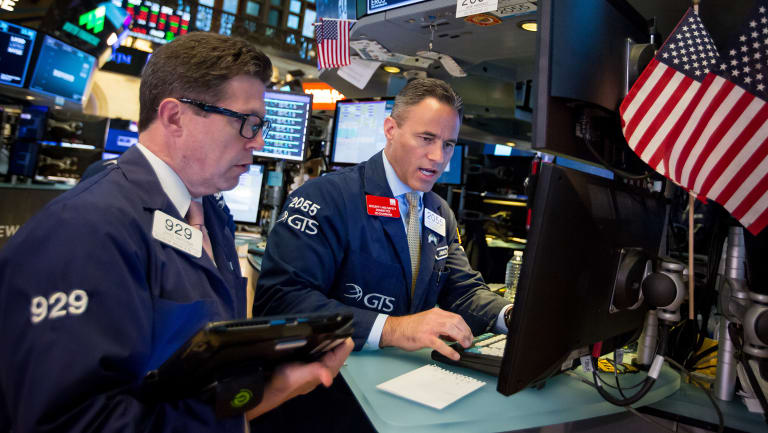 Markets are getting increasingly worried about global trade tensions.
Harley-Davidson on Tuesday cut its profit margin forecast, citing tariffs. The iconic motorcycle maker was caught in the crossfire of the trade war last month when it announced plans to shift some US production overseas, prompting attacks from Trump.
Dutch electronics firm Royal Philips Chief Executive Frans van Houten says an escalation of tariffs may mean it has to pass on costs to customers, and Whirlpool Corp. said rising raw material costs hurt results in some of its markets in the second quarter.
Golden run comes to an end
For the global economy, which was enjoying its best spell in years, there's a sense that the period of synchronised global growth is at an end. The US has got a temporary shot in the arm from tax cuts, but growth is cooling in China, a number of emerging markets are dealing with a currency sell-off, and Europe has been slow to recover from a winter-battered start to the year.
According to Abby Joseph Cohen, advisory director at Goldman Sachs, global growth will continue into 2019, but it's moving into a slower phase. A trade war on top of that would be a further weight.
"What is so hard to quantify is the impact not just on demand but on costs and on supply-chain disruption," Ms Cohen said in a TV interview. "What we have now are anecdotes more than anything but this is what we need to be watching.
"Clearly if there were an all-out trade war, it would be very difficult for investors to focus very directly just on the fundamentals, the geopolitical environment would be very uncomfortable."
In the 19-nation euro area, IHS Markit's monthly survey showed growth softened in July on weaker new orders and deteriorating confidence. Factory activity in Japan grew at the weakest pace since 2016 and, in the UK, where Brexit is another complication, manufacturing output expectations weakened, as have investment intentions.
Trade worries 'intensify markedly'
The Markit reports come just days after central bankers and finance ministers from the Group of 20 economies said that trade tensions are threatening global growth, echoing multiple warnings from around the world.
In China, concern has reached such a level that authorities on Monday unveiled a package of policies to boost domestic demand to cushion the economy from the fallout from the trade dispute.
The euro-area composite Purchasing Managers Index for manufacturing and services fell to 54.3 from 54.9 in June, a sharper drop than economists had forecast. A measure of expectations fell to a 20-month low.
"Given the waning growth of new business and further slide in business optimism, the outlook has also deteriorated," said Chris Williamson, chief business economist at Markit. For manufacturers, the survey saw trade worries "intensify markedly," he said.
The pressure on the economy may only be beginning, and EU Commission President Jean-Claude Juncker is travelling to Washington this week in an effort to ease tensions. He won't come unarmed. The EU has vowed to retaliate against any import duties, and China has also said it will match American sanctions on its exports.
Meanwhile, Trump tweeted this ahead of Juncker's arrival:
In the US, the PMI report showed continued growth in private-sector activity, but a second straight drop in goods export orders. There was also a record surge in prices charged and more supply-chain delays.
"Trade frictions have clearly become a major cause of concern, especially among manufacturers," Williamson said. "Firms have become increasingly worried about the impact of tariff and trade wars on demand, prices and supply chains.
Bloomberg 
Source: Read Full Article