Amazon Web Services plans to invest $35 billion in Virginia data centers
video
Amazon, Google facing short-term challenges: Mark Mahaney
Evercore ISI senior managing director Mark Mahaney explains why he is lowering his price targets on two Big Tech stalwarts on 'Varney & Co.' 
Virginia Gov. Glenn Youngkin announced Friday that Amazon Web Services plan to invest $35 billion in new data centers in the state by 2040, resulting in the largest economic investment in the commonwealth's history.
The legislature still has to approve millions of dollars in incentives, but a news release from the governor's office stated General Assembly leaders in both parties are supportive of the pending deal.
According to the Associated Press, if approved, Amazon would receive incentives from a new Mega Data Center Incentive Program and a grant of up to $140 million for workforce development site improvements and other costs.
In a tweet, Youngkin said the investment is expected to generate more than 1,000 jobs across the state, significantly less than the 25,000 job openings that came with Amazon's decision to build a second headquarters in Arlington County in 2018.
AMAZON SHUTTING DOWN AMAZONSMILE CHARITABLE PROGRAM
Virginia Gov. Glenn Youngkin delivers his State of the Commonwealth address to a joint session of the Virginia legislature in the House chamber in Richmond, Va., Jan. 11, 2023. (AP Photo/John C. Clark)

The grant's exact amount will be determined by how many jobs are created, as stated in legislation under consideration by the General Assembly, the AP reported. It will also include temporary exemptions from a sales and use tax imposed on Virginia data centers.

Youngkin's office said the locations of the data centers would be determined at a later date. Bills recently proposed in the state legislature would increase regulations on where the centers can be built.

Data centers have become a politically volatile topic, especially in northern Virginia (NOVA), where the structures are seemingly everywhere. Loudoun County, also known as "Data Center Alley," boasts the largest concentration of data centers in the country with 115 in 27 million square feet of operational space, according to Dgtl Infra.

While tech companies prefer the NOVA area because of the region's history as a network access point, many residents have been vocal about the noise and environmental concerns that come with the structure influx.

Data centers, which house computer servers and hardware needed to support internet use, require high-powered fans and extensive cooling capacities that can be quite noisy, the AP said. They also consume  vast of electricity that can require the construction of high-voltage transmission lines to support them.

THESE MAJOR COMPANIES ARE LAYING OFF WORKERS AT A HUGE RATE
Spencer Snakard, president of Protect Fauquier, speaks Aug. 29, 2022, at a rally near Manassas, Va., protesting a newly built data center for Amazon Web Services. (AP Photo/Matthew Barakat)

Prince William County resident Bill Wright, who opposed a massive data center expansion recently approved by the county despite opposition within the community, said Friday's announcement proves the influence of big tech money has become "intoxicating to our politicians."

While he does not object to data centers as a whole, Wright told the AP he hopes the state will place them in areas that don't harm the environment and in rural areas where jobs are needed.

"Northern Virginia is being overwhelmed by these things," he said. "We may as well start calling ourselves the Commonwealth of Amazon."

He also said he is skeptical that the state will stand up to tech companies that want the centers in northern Virginia.

State Sen. Chap Petersen, D-Fairfax, is the sponsor of a bill restricting the placement of data centers near natural or historic resources.

"In my opinion, the data centers are short-term financial gains with long-term environmental consequences. Industrial buildings with no actual workers are not the economy of the future," he said. "In fact, they may well be obsolete in a decade. Meanwhile, we are losing valuable farmland and historic sites."

Petersen said Virginia risks being overwhelmed by data centers if protections aren't put in place.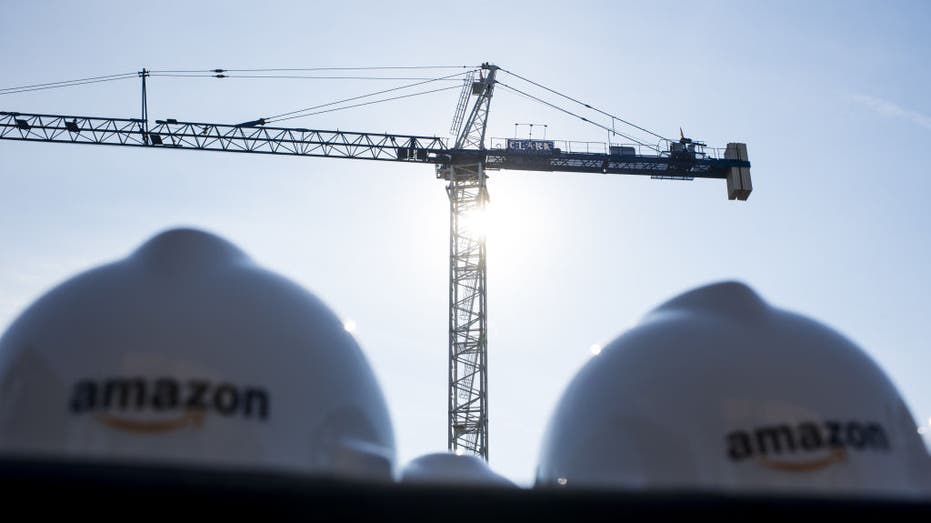 Hard hats with Amazon logos at the company's HQ2 development site while under construction at Metropolitan Park in Arlington, Va., on Wednesday, Nov. 17, 2021. (Pete Kiehart/Bloomberg via Getty Images)

GET FOX BUSINESS ON THE GO BY CLICKING HERE

Suzanne Clark, a spokeswoman for the Virginia Economic Development Partnership, said Amazon Web Services is exploring several site locations "in collaboration with the Commonwealth," but specific sites were not given.

An Amazon Web Services spokesperson did not specify how many data centers were planned or Amazon's location preferences.

The Associated Press contributed to this report.

Source: Read Full Article