'Without creating jobs and output, we are waiting for a disaster'
'We first need to acknowledge the truth.'
'We are trying to diminish the problem and say, everything is okay and green shoots are emerging.'
'Imagine you are a doctor and not getting accurate medical reports, how do you diagnose and treat the illness?'
'We are not dealing with a terminal illness here, we are dealing with BP and cholesterol, which are imminently curable.'
"This government has been delivering all that they had promised on the socio-political side, but their ideology is not very clear when it comes to economics," Professor Ananth Narayan — the well known financial expert who is a faculty member at the S P Jain Institute of Management and Research and the RBI's nominee director on the board of Yes Bank — tells Shobha Warrier/Rediff.com in the concluding segment of the interview.
PART 1: 'The contraction in GDP is the result of COVID-19 and the lockdown'
But there was no demand even before the pandemic. The complaint by industry was that people were not spending.
Again, a couple of things.
One is the growth in M3 is much higher now than before the pandemic.
If M3 was growing at 9% to 10% then, it is growing at 13% to 14% now. So, the quantity of money has gone up.
The second thing is, there has been an improvement in the terms of trade for the rural sector.
What it means is, more money has gone more into rural hands than urban hands.
This is fabulous for consumption because the propensity of rural people to spend is higher than urban people.
In terms of monetary stimulus, I think ample money has been put into the system and some more money will come from the government.
Second, and the most critical, is what needs to be done alongside a demand stimulus.
It is not enough if just consumption goes up. Historically, every time India starts consuming in a big way, particularly rural India, we see imports going up and the domestic production not going up the same way.
In simple terms, we don't produce enough for domestic consumption, and we end up importing everything — it's not just crude oil and gold — it's also everything from electronics to plastics to toys to chemicals; in fact almost everything.
So, it is a fallacy to say that all India needs is demand, and everything else will be taken care of.
We have shown in the last 20 years that we are unable to produce enough to meet our growth in consumption, and we end up net importing more goods and services.
Then, how much will this Aatma Nirbhar Bharat slogan work when every sector, from pharma to electronics to textiles depends on imports from China?
I have still not understood what Aatma Nirbhar Bharat means. I am waiting for full clarity.
The prime minister has outlined all the right principles. Now, the mandarins in New Delhi are tying themselves up in knots, trying to explain why Aatma Nirbhar Bharat is not the old failed import substitution policy.
I still await clarity on the real components of Aatma Nirbhar Bharat.
The bottom line is, we need to be able to create jobs and output in India.
Why is it that our entrepreneurs are closing down garment factories in Tirupur, and shifting to Dhaka and Vietnam?
Why is it that every small thing has to be imported?
Why is it that the Ganesh murtis at our local temple is made in China? You go to any hotel, the bulk of the fittings are imported.
If we need to create domestic jobs and output, we have to clean the banking and financial ecosystem first. It is in a mess right now. It is no position to fund growth in India.
Because of the NPA crisis?
It is obviously because of the NPA crisis. Actually, I think we need four sets of things, to get jobs and output going in India.
First, clean up the financial sector ecosystem.
Second, address issues in chronically stressed sectors like power, real estate, telecom, airline and shipping, MSME.
These are all in a mess, and they have been in a mess for many, many years. But we are closing our eyes and acting like an ostrich and wishing the problem away.
Third, we have to improve ease of doing investments. We have to make it easy for people to open factories and businesses and employ people.
There is a huge opportunity for us. So many companies want to move out of China. Many companies want to sell in India. There is a huge opportunity for us in both Make for India and Make in India.
Finally, we need to invest in healthcare, nutrition and education for our kids.
But if you talk to any entrepreneur, he says it is extremely frustrating to start a business in India as you need thousands of applications and approvals. Where is the ease of doing business?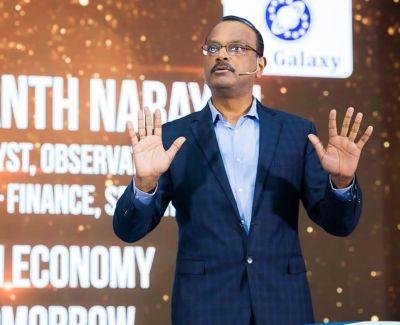 Though I am not an expert, experts like Manish Sabharwal of Teamlease talk all the time about regulatory cholesterol which comes in the way of creating jobs.
Ease of doing investment is missing, and that requires a lot of land reforms, labour reforms, legal reforms, capital reforms, policy stability, etc. And we have not sorted this out in the last 20 years.
I am not convinced that the government has a medium-term plan for the four critical areas I have mentioned earlier.
Do you feel they are tinkering here and there, and not repairing it properly?
To be fair, doing all this is not easy. As a professor, it is easy for me to sit down and give armchair gyan.
But these are extremely tough reforms, even tougher than the 1991 reforms.
The good news is that a lot of experts have recommended what is to be done. But they are not easy to implement.
The P J Naik committee says that all bureaucracy and politicians should get out of day to day banking.
The report says, give PSB bankers professional autonomy and a level playing field, and hold them accountable. That would mean that the babus and netas have to do reforms, which will get them out of banking!
Why would a babu or a neta give up their control over banking?
What you need for tough reforms are: first, political leadership with clear ideas.
Second, you need external experts who are empowered. For example, Nandan Nilekani, a technocrat, was given the task of creating the Aadhar card.
Likewise in 1991, you had empowered technocrats like Montek Singh Ahluwalia and Manmohan Singh.
You said we need strong political leadership to carry out such tough reforms. Do you feel in 1991, when the economy was in deep crisis, because P V Narasimha Rao had the political will and he also had experts to guide him, they were able to liberalise?
No two situations are comparable. 1991 was very different and 2020 is very different.
Because this is taking bitter medicine, nobody will be happy. So, you need a leadership that can say, this is the bitter medicine. You have to have it. There is no other way.
Yes, in 1991, you had a good competent bureaucracy with people like Dr Y V Reddy, Dr Subbarao etc.
At present, it seems the bureaucracy in the PMO is running much of the economic reforms. You don't have enough of external empowered experts, and we don't have an all-encompassing economic vision.
From the political leadership perspective, I don't think there is clarity in the message on what exactly is required to get India to the goalpost.
Is it big government, small government?
Is it external capital, local capital?
Is it Socialism, Communism or Capitalism?
This government has immense political capital even now. There is no threat to their existence.
Then, what is preventing them from giving the bitter pill?
If you look at the 2019 BJP manifesto, it had complete clarity on socio-political objectives. And they have done admirably in following up on those promises.
Equally, the manifesto was very light on the economic ideology.
On their vision for the economy, the one thing it said was, the government would spend more than Rs 100 lakh on infrastructure. But where will that money come from?
Where will we spend it? How will that translate into jobs and output? There was little clarity around all that.
This government has been delivering all that they had promised on the socio-political side, but their ideology is not very clear when it comes to economics.
Raghuram Rajan said they have managed to put the economy in a coma. How long do you think it will take for the Indian economy to come out of the coma?
I still think our future is extremely bright because our biggest strength is our people. No problem in India is unsolvable.
For now, our already weak economy has taken a body blow from the pandemic. I expect a double-digit contraction of the GDP. I expect deep distress for people and business.
We first need to acknowledge the truth. We are trying to diminish the problem and say, everything is okay and green shoots are emerging.
We have to acknowledge first the true extent of NPAs, fiscal deficit, sectoral problems, issues around ease of investment.
Imagine you are a doctor and not getting accurate medical reports, how do you diagnose and treat the illness? Ignoring the reports will not make everything fine.
We are not dealing with a terminal illness here, we are dealing with BP and cholesterol, which are imminently curable.
But we have to understand that there is no master stroke or short cut to solve the current problem.
Without creating jobs and output, we are waiting for a disaster to come.
Source: Read Full Article