Why Rakesh Jhunjhunwala's Akasa Air could prove the sceptics wrong
At the recently concluded Dubai airshow, Akasa, Rakesh Radheyshyam Jhunjhunwala's new airline, signed a $9 billion deal with American aircraft maker Boeing to buy its 737 MAX planes and a $4 billion one for engines with CFM, a joint venture between GE of the US and Safran of France.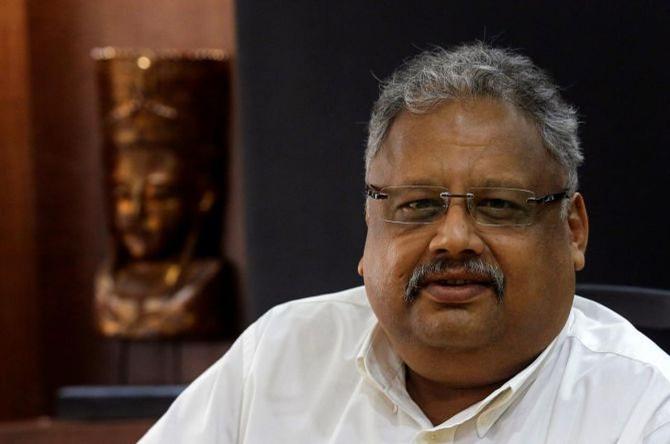 Unlike his financial doppelganger Warren Buffett, who divested billions from his airline stock portfolio at the start of the pandemic, Jhunjhunwala is wagering his billions in a brand new airline.
The legendary investor bought a roughly 40 per cent stake in SNV Aviation in September, Akasa's holding company, started in March by three former Jet Airways colleagues.
With aviation still to recover from its pandemic slump, the big question around his foray into domestic aviation, due to take off in summer 2022, is whether it is another pie in the sky.
The Boeing deal suggests that Jhunjhunwala may have chosen an opportune moment.
Industry insiders say the $13 billion list price for 72 aircraft along with engines could be reduced by 10 to 15 per cent by the time Akasa approaches lessors to lease the planes.
The monthly lease rates of a new narrow-bodied plane like the Airbus A320 and Boeing 737 is between $300,000 and $350,000.
But subdued demand for newer aircraft by financially strapped airlines globally could put Akasa in a strong position to negotiate considerably lower lease rents.
Assuming Akasa starts operations with 10 new Boeings at $250,000 a month, its yearly lease rentals would come to around $30 million (some Rs 230 crore) — on a par or even lower than what other airlines pay for older, fuel-guzzling planes.
There is much more at stake for Boeing in ensuring the airline's success, too.
"The Akasa deal is a foot in the door in India for Boeing.
"Jet Airways was Boeing's anchor airline in India till it shut operations.
"SpiceJet, the other major airline flying the Boeing 737 MAX, isn't doing well.
"The Tata owned airlines primarily use Airbus for their domestic operations.
"They are unlikely to incur additional costs by mixing their fleets.
"Discounts to Akasa will increase Boeing's presence in India, which in turn will help reclaim its reputation" said Vinamra Longani, head of operations at Sarin & Co, a law firm specialising in the aviation business.
And reputation is one thing Boeing is going all out to reclaim.
Two 737 MAX crashes in five months in 2019-20 in Ethiopia and Indonesia killed 346 people and caused a global grounding of the aircraft.
The aircraft is back in the skies, including in India, but Boeing has been the subject of media and Federal Aviation Administration (FAA) scrutiny.
Boeing's spokesperson said, "We have a long history of producing safe products.
"Since the accidents, Boeing has made significant changes to the design of the 737 MAX to ensure that accidents like those never happen again."
Boeing commands just about 15 per cent of aircraft in India with Airbus dominating the market.
Its wide-bodied planes used for international long-haul flying are much sought after but constitute a fraction of India's commercial aircraft fleet.
Boeing estimates that more than 2,200 planes would be bought by South Asian nations by 2040.
Much of this $320-billion worth of demand is expected to come from India, which is the region's biggest aviation market.
With billions of dollars at stake, Boeing is going for broke in India with the Akasa deal to start with.
SpiceJet has pending orders of 129 planes, mostly the 737 MAX, with Boeing as well.
Competitive aircraft costs would be one major advantage for Akasa.
With Jet Airways' relaunch, also scheduled for 2022, still an unknown variable and other airlines expected to recuperate from their pandemic cash burn through route consolidation, cautious expansion and conservative crew salaries, Akasa could well enjoy the upper hand when it comes to recruiting pilots, with typically the biggest share of the wage pie, without actively scouting or poaching them from elsewhere as is the case with most new airlines.
If Jet Airways manages to fly next year, the enhanced domestic competition could well play into Jhunjhunwala's hands.
"International travel for most Indians will be prohibitively expensive because of mandatory multiple RT-PCR test requirements, paid quarantines and exorbitant fares due to air bubbles.
"More people, especially tourists who would have otherwise flown abroad, are likely to fly locally.
"Domestic aviation would be the first to witness a huge revival.
"With more airlines in the fray, airfares will drop significantly.
"This fits Akasa's high affordability strategy perfectly," said Longani.
In recent weeks, airlines such as Indigo have announced lower fares for zero-bag travellers while Go First (founded as GoAir), Vistara and others are readying themselves to make the most of the passenger surge expected in 2022.
That's if a third wave doesn't hit.
Meanwhile, the advantages working in Akasa's favour are amplified by Jhunjhunwala's own finances that could easily bankroll the airline in the initial phases as it seeks to make a dent in the competitive domestic aviation market.
Information analysed by Business Standard Research shows that Jhunjhunwala and his wife Rekha hold varying stakes in almost 35 corporations — mostly blue chips.
The husband-wife duo's investments total well over Rs 21,000 crore.
Taking into account the average dividends and the stock price movements, these investments net the Jhunjhunwalas more than Rs 2,000 crore a year.
Regulatory filings show that in 2021-22, Rakesh Jhunjhunwala invested Rs 248 crore, while his wife invested almost Rs 60 crore in SNV Aviation.
Jhunjhunwala now has a 40 per cent stake in the airline with a Dubai-based investor holding 17 per cent.
The rest is held by former Jet Airways CEO Vinay Dube.
A former banker tasked with negotiating aircraft leasing finance, a retired Indian Air Force officer tasked with dealing with the government and the senior management have also been given some sweat equity.
All told, Akasa appears to have given itself the ballast needed for a smooth take off.
Heavy discounts on aircraft lease/purchase because Boeing urgently needs to reclaim the Indian market
No need to poach pilots because the slowdown means easier recruitment
Bankrolled by a prosperous principal shareholder
If Jet flies in summer 2022, fares will drop further, suiting Akasa's affordable airline strategy
Source: Read Full Article