Rs 1-trillion m-cap club now has 42 members with 13 new entrants
Despite the Sensex coming off close to 6 per cent — due to the Covid-19 second wave-induced selling — from its all-time high of 52,154 on February 15, no company has exited the list this year.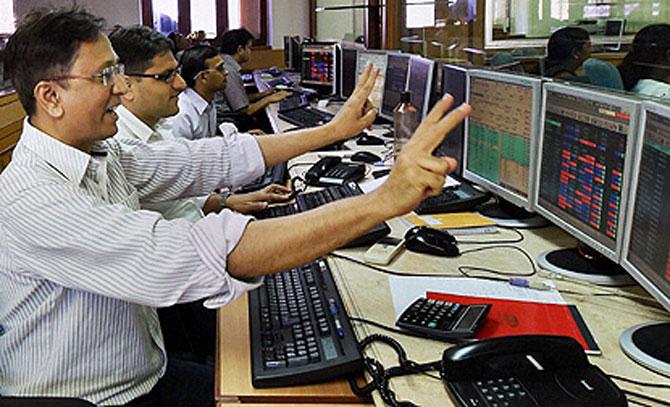 Thirteen companies have joined the Rs 1-trillion-plus market capitalisation club this year, so far.
This even as the benchmark Sensex has gained less than 3 per cent on a year-to-date basis, underscoring the bullish undercurrent in the broader market.
The trend shows a harsh second wave of Covid-19, subsequent lockdowns, and hit to the economic activity has made little dent into India Inc or shareholders' wealth.
At the start of the year, there were 29 companies with a market value of more than Rs 1 trillion.
At the end of last week, the number increased to 42 with names like JSW Steel, Tata Steel, and Vedanta storming into the club on the back of huge buying interest in commodities stocks.
Four Gautam Adani-led firms — Adani Ports and Special Economic Zone, Adani Total Gas, Adani Enterprises, and Adani Transmission — have also seen their market cap past Rs 1 trillion this year.
Barring Adani Ports, the companies have seen their market cap more than double this year and are among the biggest gainers in the list of 42.
Despite the Sensex coming off close to 6 per cent — due to the Covid-19 second wave-induced selling — from its all-time high of 52,154 on February 15, no company has exited the list this year.
At the peak of the Covid-19 sell-off in March last year, the Rs 1-trillion club had shrunk to just 18.
Incidentally, India's combined market capitalisation (all BSE-listed companies) has touched a new record high of Rs 211 trillion ($2.88 trillion).
The previous high for m-cap was Rs 210 trillion on March 3.
Some call this an irrational exuberance as India is registering between 350,000 and 400,000 new infections every day, with active cases doubling every 17 days.
Also, a growing number of states have announced lockdowns and economists have scaled back their economic and earnings growth forecasts for FY22.
"The markets have hardly corrected, in part due to the experience of last year (a sharp fall followed by a massive rally) and the fact that companies are better prepared.
"Global liquidity remains supportive, and perhaps any significant market fall may be viewed as a buying opportunity.
"However, given valuation levels, the worsening Covid-19 situation, and its aftermath should not be underestimated and could see intermittent market sell-offs," said HSBC strategists Herald van der Linde and Amit Sachdeva in a note.
Only 11 of the 42 companies with m-cap of over Rs 1 trillion have seen a fall in their stock price this year.
Only Maruti Suzuki and Kotak Mahindra Bank have seen a double-digit fall this year of 13 per cent and 11 per cent, respectively.
"Unlike the first wave, Indian equities have remained resilient even amid the heightened panic and the global underperformance has been modest.
"However, domestic cyclicals, including banks, autos, capital goods, and realty, have taken the maximum hit.
"Metals, technology, and pharma have done well. Stronger evidence of the (Covid-19) curve bending should be positive for market sentiment," said Dhananjay Sinha, managing director & chief-strategist, JM Financial Institutional Securities.
Amid the health care crisis, the optimism in the market is supported by strong March quarter results posted by India Inc, coupled with record GST collections.
Analysts, however have downgraded FY22 earnings estimates for several stocks over the past month. Also, economists are projecting a weak GDP footprint for the June quarter.
This is to factor in the impact of lockdowns across multiple states.
For now, the market is pinning hopes that the second wave will subside soon, a large section of the population will get vaccinated and GDP growth will bounce back due to pent-up demand.
"There is a pent-up demand in the system. The moment the situation gets normal, you will see strong revenge buying.
"This will lead to disproportionately high growth. As a result, investors are not selling in a hurry but are using corrections as buying opportunities," said Deven Choksey, managing director, KRChoksey Shares and Securities.
Photograph: PTI Photo
Source: Read Full Article