Retail inflation eases to 9-month low in July on cheaper food items
Economic affairs secretary S C Garg said that all macroeconomic parameters are performing well.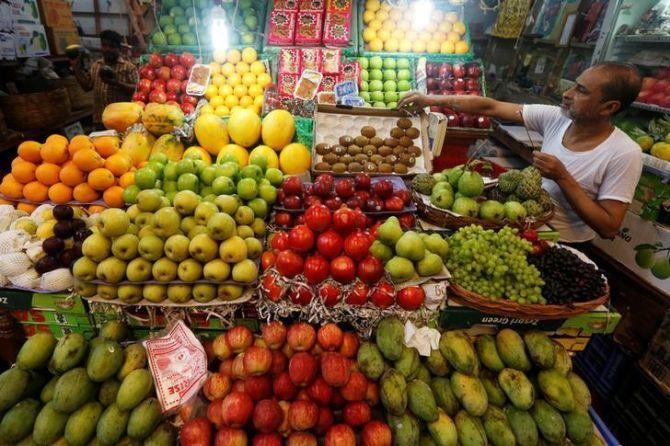 Retail inflation fell to 9-month low of 4.17 per cent in July on declining vegetable prices which may prompt the Reserve Bank to pause interest rate hike in its next monetary policy review.
In the last two reviews RBI has raised the key repo rate by 0.25 per cent each on inflationary concerns.
The next bi-monthly policy is to be unveiled on October 5.
Based on the Consumer Price Index (CPI), retail inflation for June has also been revised downwards to 4.92 per cent from the earlier estimate of 5 per cent, as per the Central Statistics Office (CSO) data released today.
The previous low was in October 2017 at 3.58 per cent.
As for year-on-year comparison, retail inflation had increased by 2.36 per cent in July last year.
The CSO data revealed that inflation in vegetables declined by (-) 2.19 per cent last month, compared to 7.8 per cent in June.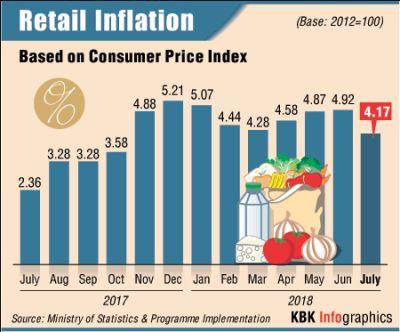 The rate of price rise in fruits slowed down 6.98 per cent, as against over 10 per cent in the previous month.
However, inflation in the 'fuel and light' segment based on the changes in the CPI increased to 7.96 per cent from 7.14 in the previous month.
Economic affairs secretary S C Garg said that all macroeconomic parameters are performing well.
"Today CPI inflation data got released. Inflation is down to 4.17 per cent, very close to target of 4 er cent. It is down from 5 per cent in June. Food inflation is only 1.37 per cent," he said in a tweet.
India Ratings and Research's (Ind-Ra) chief economist and senior director (public finance) Devendra Pant said: "This is nine month lowest retail inflation… Sharp decline in retail inflation to 4.17 per cent, closer to RBI's 4 per cent inflation target will give lot of comfort to monetary authorities and we expect RBI to stay in pause mode in rest of FY19."
Milk and its products, meat and fish showed inflation easing during the month.
However for eggs, cereals and products as also oil and fats the rate of price rise was higher than in June.
If the recent depreciation of the Indian rupee sustains, it may modestly feed into the CPI inflation over the near term, said Aditi Nayar, principal economist, ICRA.
"Crude oil prices continue to display a volatile trend, driven by geopolitical risks and concerns regarding supply as well as demand in various parts of the world.
"The CPI inflation in Q2 FY2019 looks set to lag the MPC's estimate of 4.6 per cent, reducing the likelihood of a rate hike in the October 2018 policy review," she added.
The prices for the data are collected from selected towns by the Field Operations Division of NSSO and from selected villages by the Department of Posts.
Price data are received through web portals, maintained by the National Informatics Centre.
Photograh: Rupak De Chowdhuri/Reuters
Source: Read Full Article