Did Prabhu's tweet on exports help markets, rupee recoup losses?
Export trade during August 2018 recorded at $27.84 billion, a positive growth of 19.21 per cent, tweeted Prabhu.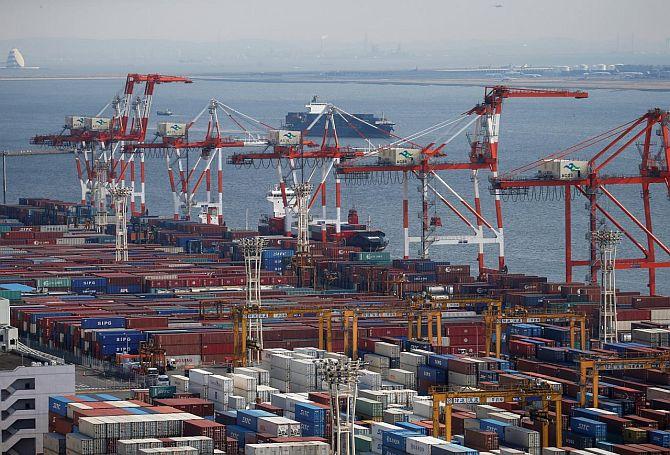 A tweet by Union Commerce and Industry Minister Suresh Prabhu revealing that India's merchandise exports grew 19.21 per cent in August, two days before the official release date of the trade data, spread cheers in the financial market.
"Export trade during August 2018 recorded at $27.84 billion, a positive growth of 19.21 per cent.
"Excluding petroleum, exports also reported a positive growth of 17.43 per cent," Prabhu said.
The events unfolded even as Prabhu is currently leading a high-level delegation, on a three-day trip starting Monday to the Eastern Economic Forum in Vladivostok, Russia.
Exports had risen 14.32 per cent in July mainly due to a rebound in gems and jewellery exports along with hat of processed petroleum.
The resurgence in outbound trade, as well as reports of Prime Minister Narendra Modi holding a meeting on Friday to review the current economic situation and potentially rein in northbound oil prices.
The S&P BSE Sensex ended at 37,718, up 305 points while the broader Nifty50 index settled at 11,370, up 82 points.
In a separate tweet, which has since been deleted, Prabhu pointed out that imports too rose by 25.41 per cent in August to $45.24 billion due to the rising crude oil prices.
The resultant trade deficit of $17.4 billion is lower than the near five-year high of $18.02 billion in July.
Prabhu's comment is also thought to have affected the fortunes of the volatile Rupee which managed to stem its continuous fall over the past few days.
The currency had closed at 72.69 to the US dollar on Wednesday, sinking to a new low of 72.91 as markets opened in the morning in the morning and closing at 72.18 at the end of market hours.
The commerce department has, however, refused to accept or deny the figures, pointing out that official statistics will be released on Friday.
The disaggregated figures, as well as sector wise movement in trade will be brought out on that day, a senior official said. He didn't justify why the minister had diverted from the established practice.
Unlike other macroeconomic data, the date of release of trade data is not announced by the government every month.
However as a rule, trade figures are brought out on the 15th of every month or a day before if there is a public holiday on that date.
Photograph: Issei Kato/Reuters


Source: Read Full Article