Be Warned! Haldi Prices Will Soar!
After cumin seeds (jeera), tomatoes, and pulses, it is now the turn of turmeric to ride the inflation wave, with prices jumping nearly 42 per cent in less than a month due to delayed sowing in key regions, deficient stocks with traders, and talk of some shift in acreage attributable to low returns in the past few seasons.
Some traders said there is some holding also happening of the pipeline stocks as realisations have improved after many years.
On June 20, spot turmeric prices were roughly Rs 8,100 per quintal, which jumped to nearly Rs 11,500 per quintal (as on July 19), according to exchange data.
According to data sourced from the ministry of statistics and programme implementation, retail inflation in turmeric has dropped from 7.6 per cent in January to 4 per cent in June (the last available data).
Turmeric is a long-duration crop and most of the produce takes 250-270 days to mature.
Sowing usually starts in July with the onset of the monsoon and harvest takes place in March.
Although there are some varieties which mature early, a majority of the crop takes seven to eight months to mature.
In the 2022-2023 crop year, according to the First Advance Estimates, India produced about 1.16 million tonnes of turmeric, which was marginally down from 1.22 mt in the 2021-22 season.
Usually, turmeric is grown over 290,000-330,000 hectares of land. But in 2022-2023, according to official estimates, there has been a drop of about 10,000 hectares.
"In the past five years, turmeric prices have hardly moved beyond Rs 5,000-7,000 per quintal, which was not enough to cover the basic cost of production. This explains why farmers have started looking for alternatives," said Madhusudan, a turmeric farmer from the Armoor subdivision in Nizamabad in Telangana.
In the Armoor subdivision, he said, turmeric acreage this year is down to 20,000-25,000 acres, against 35,000 acres five years ago.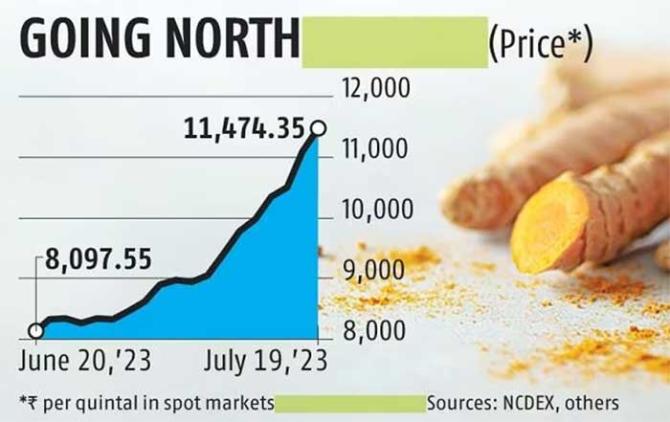 Punam Chand Gupta, a turmeric trader, said acreage is down 10-15 per cent so far, compared with the same period last year in almost all the major growing districts of Sangli and Nanded in Maharashtra, Nizamabad in Telangana, and Erode in Tamil Nadu — all of which contribute to the bullishness in prices.
However, some traders said as rains pick up in the major growing states in the weeks ahead and sowing gathers pace, turmeric prices might come down in the open market.
Feature Presentation: Ashish Narsale/Rediff.com
Source: Read Full Article