Air India set to enhance in-flight service in first and business class
Air India is set to enhance its in-flight service with a change in ownership from Thursday.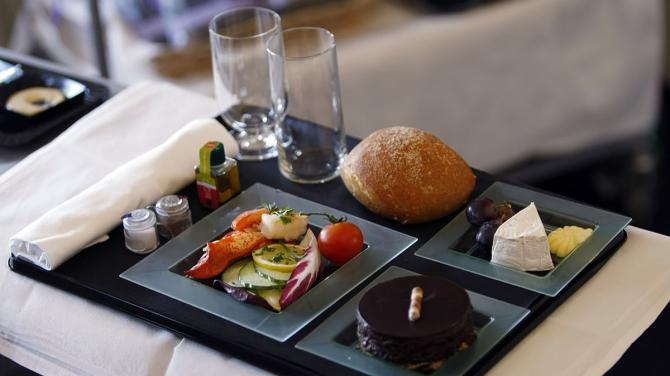 This will include more variety in on-board meals, improved in-flight service procedures, and reintroduction of amenities.
Non-vegetarian meals are being introduced in the economy class of domestic flights after a gap of nearly four years.
Seafood, including prawn, will be offered to first-class passengers on international flights.
There will be greater choices in juices, hot beverages, and conserves.
While the upgraded menu was introduced on select flights on Thursday, these will be gradually rolled out on all flights over the next few days.
The emphasis will be on service with finesse, said a person in the know.
Moreover, the idea is to provide better experience to passengers.
Air India used to carry out elaborate meal services in its first-class, but these were discontinued several years ago due to cash crunch.
The airline's crew is undergoing refresher training on these service procedures as it looks to overhaul its image.
This includes training on table-setting plating of meals course by course.
A spokesperson for Air India did not respond to an email query on the matter.
The airline is also bringing back certain amenities and services which were discontinued due to the Covid-19 pandemic.
These include duvets, blankets, and pillows.
Linen and hot towels, too, will be carried on board as was the practice earlier.
In order to minimise interaction with passengers in the midst of a pandemic, the airline had tweaked certain onboard procedures.
The crew would prepare a drink in the galley and pouring of drinks in front of passengers in cabins was stopped.
In a staff circular on January 21, the airline's general manager (IFS) A B Subbaiah said beverage service should be conducted before each meal, according to the standard operating procedure.
In the first- and business-class, trolley service should be used for beverages, while in economy, a bar cart must be used.
The circular also detailed different types of cups and glasses that will be uplifted on flights.
These include melamine or porcelain cups, highball and wine glasses for serving tea/coffee and wines in different cabins.
The airline has also assigned staff at airports to ensure the crew is well-groomed.
Their observations will be compiled and sent to the head of in-flight services.
Each cabin crew will be assessed once on a quarterly basis, executive director (IFS) Vasudha Chandna said in a staff circular last week.
The All India Cabin Crew Association and the Air India Employees Union, however, have objected to the weight and body mass index (BMI) checks at airports as part of the new grooming procedure.
"We are not objecting to BMI checks which the crew has undergone for more than 15 years now.
"However, the same must be conducted by medical doctors in the privacy of Air India clinics.
"The process of weighing-scale checks dehumanises and denigrates our cabin crew, apart from violating the working conditions," the unions had said.
Photograph: Hyungwon Kang/Reuters
Source: Read Full Article