Air India revises pilots', cabin crew salaries, announces reward, bonus
Air India on Monday announced a new compensation structure for its pilots and cabin crew, with a guaranteed flying allowance of 40 hours per month for both categories of staff.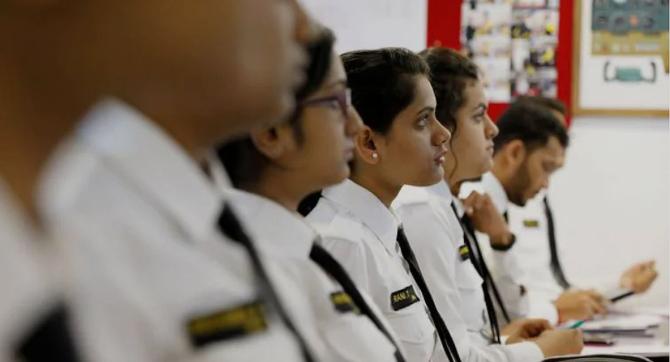 While the flying allowance has been doubled for pilots, it has been introduced for flight attendants as part of the new compensation structure.
Pilots will earn an additional amount as a reward based on the number of years of service with the airline and get an allowance while undergoing training for command or conversion to another aircraft type.
A revamped staff travel policy is also being finalised with the introduction of unlimited concessional tickets for pilots and their family members.
Productivity and performance linked bonuses have been introduced for cabin crew along with a revision of their stipend.
The new structure also includes revised pay scales across all levels and will come into effect from April 1, 2023.
"In line with our vision Vihaan.AI to become a world class airline, Air India recognises the contribution and commitment of its employees.
"We have redesigned the compensation of flying staff to make our compensation structure simplified, market-competitive and productivity oriented," the airline's chief human resources officer Suresh Dutt Tripathi said in a staff notification.
"With our fleet expansion and ambitious growth plans, our flying staff would get an opportunity to significantly increase their earnings through more flying and wider career options," Tripathi wrote.
A town hall meeting was also held earlier in the day to explain the new salary structure.
A common pool of pilots and first officers of Tata group airlines will be formed for career progression and upgrade from narrow to wide-body aircraft.
This structure will apply to the 2,700 pilots across the group as well as the 5,600 cabin crew members, reported PTI.
Air India, which was acquired by the Tata group last January, is undergoing a transformation and integration exercise.
While Air India and Vistara will merge into a single full-service airline, AirAsia India and Air India Express will be clubbed into a no-frills airline.
The management informed pilots that the revised flying allowance rate will be the highest in local industry and up to 1.3x amount will be paid for flying more than 40 hours.
Allowances for trainers and compensation of trainee pilots too are being increased.
Pilots, however, were not happy with the revision.
"Before the pandemic, pilots were receiving a guaranteed flying allowance of 70 hours each month.
"We were hoping that it would be restored and thus it is a big disappointment," a senior captain said.
Similarly, for the cabin crew, certain allowances such as those earned for working on a wide-body aircraft and a quick turnaround flight have been scrapped.
Source: Read Full Article