Corporate earnings may miss target for 11th straight year
The bigger worry is that the miss for FY19 is likely to be significant even after assuming macro factors such as crude oil prices, rupee, input costs, and interest rates, do not worsen from the current levels, reports Vishal Chhabria.
Illustration: Uttam Ghosh/Rediff.com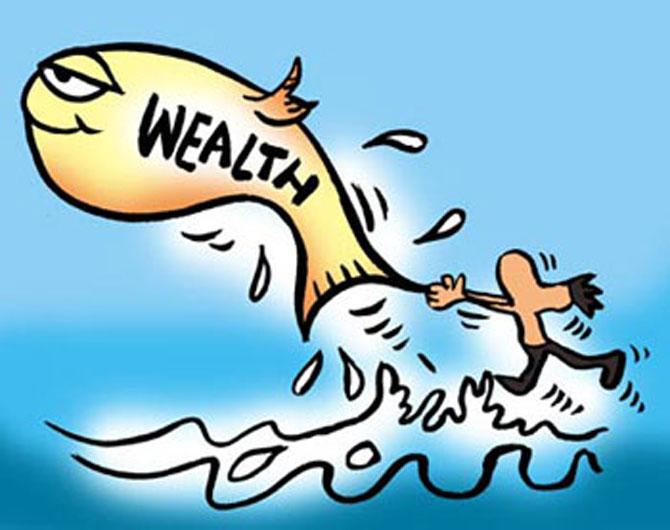 In yet another disappointment for investors, the current fiscal year may end up with lower than estimated earnings for the Indian corporate sector.
According to the data, 2018-19 (FY19) is likely to be the 11th consecutive year of the S&P BSE Sensex earnings falling short of the consensus estimates.
The last time the actual Sensex earnings came ahead of estimates was in 2007-08.
The bigger worry is that the miss for FY19 is likely to be significant even after assuming macro factors such as crude oil prices, rupee, input costs, and interest rates, do not worsen from the current levels.
In each of the past 10 consecutive fiscal years, the actual earnings number for the 30 Sensex companies at the aggregate level in each year came 2-26 per cent lower, compared to what analysts had estimated at the beginning of the year.
However, in recent years, the extent of the earnings miss has been larger.
Consider this: For 2015-16 (FY16), the combined earnings per share of all the Sensex 30 companies was Rs 1,793, but as the year came to an end, the estimates were lowered to Rs 1,390.
Finally, FY16 ended with actual earnings of Rs 1,385, or 22.7 per cent lower than the initial estimates at the start of the year.
Over the course of each of the past 10 fiscal years, analysts have kept revising the estimates lower as reality sunk in and events occurred.
Likewise, for 2017-18, the initial estimate was Rs 1,720, but the fiscal year closed with actual earnings of Rs 1,546, about 10 per cent lower than expectations.
For FY19, the earnings estimate at the start of the fiscal year was Rs 1,886, according to the Bloomberg data.
The latest estimate, as of October 26, is Rs 1,845, which is 2.1 per cent lower.
The current fiscal year, experts now say, is unlikely to be any different from previous years, with earnings estimates likely to be downgraded in the coming days.
Gautam Duggad, head of research–institutional equities, Motilal Oswal Financial Services, says, "We have estimated Nifty earnings to grow by 17-18 per cent in FY19. However, given the headwinds in the form of rising commodity prices, potential moderation in consumption owing to liquidity issues in non-banking finance companies, and higher interest rates, there is a material downside risk in Nifty earnings."
The recent results and management commentary of major companies across sectors such Maruti, Bajaj Auto, Jubilant FoodWorks, etc are an indication of growth and margin pressures they are facing.
Signs of a pick-up in investment activity, however, offer some hope.
Likewise, with big loan defaults getting resolved, public sector banks should also see a better second half of FY19.
Yet, many brokerages now believe Nifty and Sensex earnings may grow by just 10-12 per cent in FY19, compared to expectations of 18-20 per cent growth at the start of the fiscal year.
Crude oil prices are currently hovering around $77 levels, after hitting a high of $86 recently.
Average oil prices are up 35 per cent in 2018 so far.
With India importing 70 per cent of its crude oil requirements, it will mean higher costs across the value chain for most of its industries.
Higher crude oil prices, resulting in higher current account deficit, along with rising global interest rates, have already added to the pressure on the rupee.
India's rupee has depreciated by about 10 per cent in 2018 so far, around half of it from August.
This is likely to add to the inflation rate for individuals and the industry.
Domestically, too, interest rates are inching up.
The 10-year yield on government securities is now at 7.88 per cent, after hitting highs of 8.18 per cent last month, and is up 55 basis points since the end of 2017.
All this comes at a time when the overall demand is not strong enough, enabling complete pricing power to companies.
Higher costs (prices and interest rates) are also weighing on demand as it pinches the pocket of consumers.
In their September quarter (Q2FY19) results preview published this month, Prateek Parekh and Padmavati Udecha, analysts at Edelweiss Securities, also raise concerns on earnings growth.
"We expect a tepid Q2FY19, with year-on-year (YoY) profit growth for our coverage universe likely to rise by 3 per cent and for coverage, excluding commodities and corporate banks, to contract 1 per cent — a sharp cut from 15 per cent/13 per cent growth in Q1FY19."
Explaining this, they say the weakness is due to rising base and headwinds from input prices and interest expenses, which are rising ahead of India's growth cycle.
The slowdown in profit growth is broad-based with the rupee, interest rates, and input prices being the swing factors.
As a result, they believe the earnings estimates for the Nifty50 for FY19 are at significant risk of being downgraded.
"We estimate Nifty companies will post profit after tax (PAT) growth of 6 per cent YoY (in Q2 versus 8 per cent in Q1FY19). If our numbers our met, then H1FY19 PAT growth is likely to be 7 per cent YoY, which is much lower than the full-year FY19 earnings per share consensus growth of 23 per cent (Rs 545). Thus, earnings downgrades post-quarterly results season are likely," they said.


Source: Read Full Article